Explore New York's Best Waterfalls And Wineries On This Multi-Day Road Trip
When you think of waterfalls in the United States, Niagara Falls is likely one of the first to come to mind. This beautiful cascade is actually a grouping of three waterfalls straddling the border between New York and Ontario. Naturally, that's where our New York wine and waterfalls road trip is going to begin…but that's just the tip of the iceberg. The state is full of natural treasures, both in terms of wine varietals and the beautiful landscape shaped by Mother Nature herself.
Our itinerary is broken out into several days of adventures (and you can easily access and alter the route for Day One, Day Two, or Day Three), and we'll point you in the direction of a few New York Best Westerns nearby to ensure you get a chance to rest up between all the fun. Ready to dive in? Buckle up, because this adventure just might blow you away.
If you're driving in from out of state, there are several Best Western properties right by Niagara Falls. Best Western Summit Inn is right in town, providing an opportunity to rest up and easy access to the falls. If you're traveling from the states to the east, Best Western Plus Lockport Hotel is just about 30 minutes away from the falls.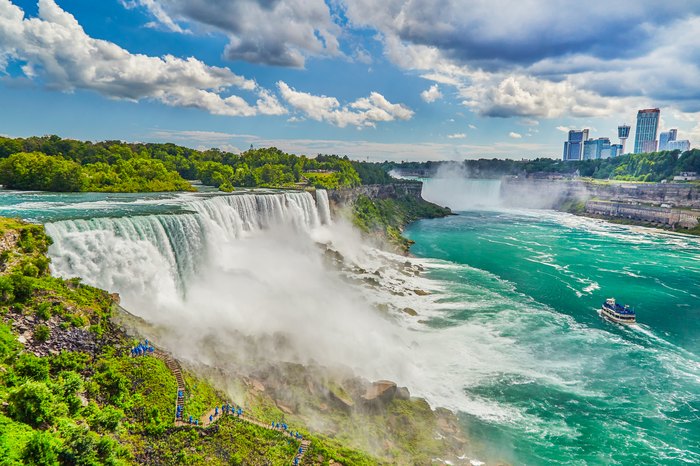 Your first day of adventures has reached its conclusion! You're probably ready to rest up and refuel for the next leg of your journey. You're right by Buffalo, and there are several comfortable hotels nearby to accommodate you. Best Western – On The Avenue, Best Western Plus Galleria Inn & Suites, and Best Western The Inn at Buffalo Airport are all just a short drive away.
And that concludes our adventures for day two! After you finish exploring Rochester, you can enjoy a cozy night in Best Western's The Inn at Rochester Airport or Best Western Rochester Marketplace Inn. 
That's it! Your wine and waterfalls road trip in New York has reached its conclusion. Fortunately, Best Western Plus East Syracuse Inn, Best Western Plus Liverpool-Syracuse Inn & Suites, and Best Western The Inn at the Fairgrounds are all nearby. Enjoy a comfortable stay as you unwind from your multi-day adventure across The Empire State. 
This New York wine and waterfalls road trip is a real adventure, but it's truly just a small sampling of the state's many stunning waterfalls. Are there any you would add to this list? Share your thoughts with us in the comments!
If you find yourself inspired and decide to extend your road trip even further, remember to check out Best Westerns in New York to find a comfortable stay near your next destination. Happy traveling!
Related Articles
Explore New York