This Daytrip Will Take You To The Best Wine And Waterfalls In New York
'Tis the season to pack your bags and hit the road! If you've been thinking, "where are the prettiest waterfalls near me?" we have the trip for you. Only In New York's latest day trip is the best motivation to get out the door. Taking you to some of our most scenic parks and fantastic vineyards, this trip will quench not only your thirst but your desire to get outdoors and see some of our favorite waterfalls in New York. So grab some friends who are ready to relax, because you're all going to want to participate in this wine and waterfalls trip in New York that has less than two hours of driving time!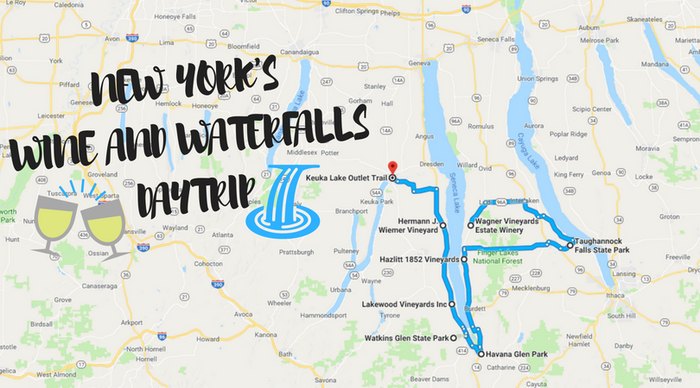 If you're looking for an even more leisurely road trip to take, check out This Mouthwatering Ice Cream Trail In The Finger Lake's Everything You've Ever Dreamed Of!
OnlyInYourState may earn compensation through affiliate links in this article.
Waterfalls Near Me
April 26, 2022
Are there any natural lazy rivers in New York?
There are several natural lazy rivers you can find in New York. They are the perfect getaway if you love tubing and low-key adventures. Some of our favorite natural lazy rivers in NY include:
Sacandaga River near the Sacandaga Outdoor Center is a local favorite because of its beautiful location in the Southern Adirondacks. Start your adventure in the little town of Hadley.
The Delaware River is another fun choice for a lazy river afternoon. Go to Lander's River Trips to have a great time hanging out on the shore of the river or having a nice smooth sailing experience down the river. There's nothing better than a relaxing float on a warm summer day in New York.
What are the best waterparks in New York?
There are lots of exciting choices of waterparks to bring the whole family to in New York. Two of the best waterparks in New York are Splish Splash Waterpark on Long Island and Rockaway Water Park near Holland, New York. Splish Splash is the biggest waterpark in the state and has an exciting water slide with lights and sounds that will amaze you and the kids. Rockaway Water Park is unique in that it has a playground in the water. The whole family will have a blast climbing ladders and taking a slide straight into a big splash.
How many state parks are there in New York?
New York might look a little small on a map, but its 180 state parks tell a different story! With so many options, you'll be sure to find one that will fit what you're looking for. Whether you're hoping for an easy, family-oriented hike, a majorly challenging walk up a mountain, or a trip through scenic water features, there will be a gorgeous park that is perfect for you and your group. The state parks in New York are stunning in every season, and some of our favorite New York State Parks include:
Chittenango Falls State Park, Cazenovia
Wildwood State Park, Wading River
Letchworth State Park, Castile
Green Lakes State Park, Fayetteville
Fair Haven Beach State Park, Sterling
Harriman State Park, Sloatsburg