The Ultimate Terrifying New York Road Trip Is Right Here And It's Good, Scary Fun
Ready to take one of the most intriguing and terrifying road trips New York has to offer? Whether you're a seasoned ghost hunter or a spooky skeptic, it seems that residents of the Empire State love creepy tales! In an effort to bring you New York's best road trips, we're kicking off this series with some of the most haunted places in NY. With an endless supply of breathtaking gifts from Mother Nature, sometimes New Yorkers get the itch to venture off for some urban exploring and to check out the areas of the state that may not be so peaceful. Hold on tight! This road trip is going to scare the socks right off of you, let's check it out!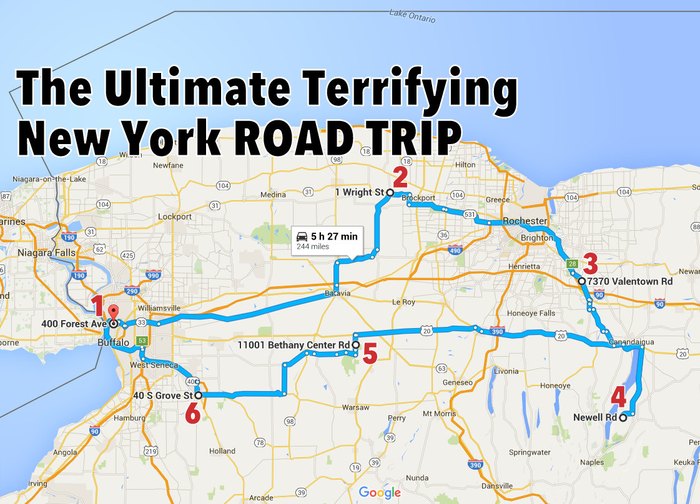 What do you think, would you take this terrifying road trip? There were a handful of places I wish could've been a part of this list, but due to either demolition or failing the tests of time, they no longer stand. As stated previously, there will absolutely be more road trip articles to come in the future. Abandoned and terrifying places of the Downstate area, I'm looking at you. So make sure you tell us in the comments below and on our Facebook page – New York Only, what terrifying places you want to make the next road trip!
OnlyInYourState may earn compensation through affiliate links in this article. As an Amazon Associate, we earn from qualifying purchases.
More to Explore
haunted places in NY
What are the most popular ghost stories in New York?
One of the most widely-known ghost stories in New York is the tale of the Amityville Horror. In November of 1974, one house on Ocean Avenue was the site of a brutal murder, when Ronald DeFeo, Jr. shot six members of his family. Just over a year later, a family of five moved into the house, but did not last more than a month due to paranormal activity. The house's address has since been changed and it has been renovated to discourage ghost hunters from harassing the current homeowners.
Are there any haunted hotels in New York?
If a spooky stay is what you're after, New York is ready for you! The Red Coach Inn in Niagara Falls is quick to tell you all about the ghosts that call their hotel home, and the Bowery Hotel in New York City is known for its wild elevators that go haywire in the middle of the night. The Sagamore Resort in Lake George was twice destroyed by fire and abandoned after renovations were deemed too costly - but decades later, it's been restored to its former glory. A whole host of ghosts hang out at this beautiful resort all year long, bickering with each other within earshot of guests.
Are there any haunted restaurants or bars in New York?
The Belhurst Castle was once a speakeasy and is now one of the most haunted spots to enjoy a drink in the Empire State. Ohana's Diner, in Tupper Lake, also has a reputation for being a haunted spot to enjoy a tasty meal - with a view. New York's oldest bars, restaurants, and hotels are sure to host a few spirits that would love to share a meal.
Related Articles
Explore New York
Featured Addresses

State Hospital, Buffalo, NY, USA

Newell Rd, Middlesex, NY 14507, USA

40 S Grove St, East Aurora, NY 14052, USA

Rolling Hills Asylum, 11001 Bethany Center Rd, East Bethany, NY 14054, USA

16848 Lynch Rd, Holley, NY 14470, USA

Valentown Square, Victor, NY 14564, USA