If You Love Red Hots, You'll Want To Visit This Tiny Town In New York
Every region of New York has its own dish that it's well-known for, with everyone loving Buffalo's wings and residents never getting enough of city pizza. But if you head up into our North Country, in Plattsburgh New York, you'll find an American favorite dish that's been turned into something so much more. After a woman from Detroit moved to Plattsburgh and brought an amazing recipe with her, the town would come to adopt Michigan Red Hots and embrace the dish. With a handful of restaurants in town offering up these dogs, read on to find out which stops you should make to get the full Red Hots in New York experience.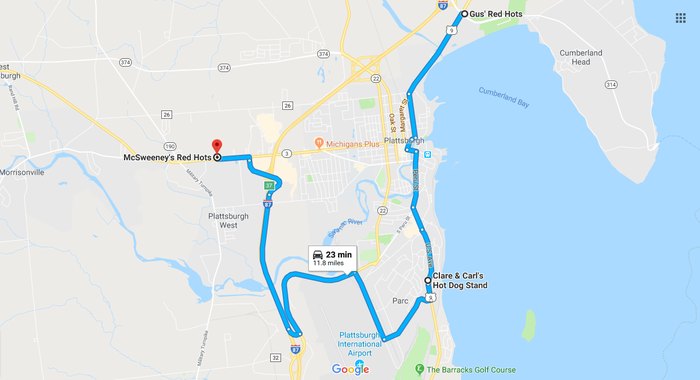 Do you have a favorite place to get Red Hots from in New York? For other delicious towns that you'll want to visit, read about this street perfect for foodies in New York, it has every type of restaurant out there!
OnlyInYourState may earn compensation through affiliate links in this article.
Address: Plattsburgh, NY, USA
New York Dining
March 24, 2023
What are some iconic New York State foods? 
If you really want to get the most out of your trip to the Empire State, you have to eat some of these utterly iconic New York State foods:
Fried chicken wings were supposedly invented in Buffalo, which also upgraded them with their now classic namesake sauce!
The black and white cookie is a soft shortbread topped with half chocolate and half vanilla fondant. One taste and it'll be your new favorite desert.
Salt potatoes are simple but classic! Who knew that burying potatoes in salt before baking them could make them even more scrumptious.
Are there any food themed road trips through New York that I can take? 
If you want to hit the highway and eat a ton of good food all in one go, take a look at these food themed road trips through New York:
The best pie in Long Island road trip takes you to seven of the best spots for a sweet slice in only two hours of driving!
The hole-in-the-wall restaurants in New York road trip takes about three hours of drive time and will bring you to six places that are beloved by locals and travelers alive.
The New York ice cream shops trail is perfect for a crew with a sweet tooth! You'll hit up nine shops in under five hours of driving but it might be best to break it up over a weekend to avoid too much of a sugar rush!
Which are the best hole in the wall restaurants in New York state? 
The best possible way to eat like the locals is to dine at one of the little hole-in-the-wall restaurants in New York State. They may not look like much but they offer the tastiest meals:
Brooks House of Bar-B-Q's, Oneonta offers up some of the best barbecue in the state, perhaps even the country. They recently won a James Beard Award!
Adrian's Custard & Beef on Grand Island is a tiny little stand, but the near perfect roast beef sandwiches they serve up are anything but tiny. Make sure to leave some room for an ice cream cupcake!
Jack's Barcelona Drive-In in Westfield is a classic old fashioned drive in with fries that are sure to knock your socks off.