Once The Second Longest Canal In The World, New York's Erie Canal Was A True Feat Of Engineering
The Erie Canal was completed in 1825 and it was an engineering marvel that is still impressive even by today's standards. Its construction allowed people and goods to travel the 363 miles from Albany to Buffalo in five days rather than in two weeks, and it reduced freight shipping rates by 90 percent. This canal was not only integral in the development of New York state, but to the development of the United States in general as a young nation. It completed the water route between the Atlantic Ocean at New York City via the Hudson to the Great Lakes and therefore to mid-western cities as well.
It is impossible to exaggerate the importance of The Erie Canal's role in our nation's early growth and development. Without this canal, completed almost 200 years ago, the United States would not be what it is today. Furthermore, the fact that it was possible to construct something like this that long ago is a true feat of engineering.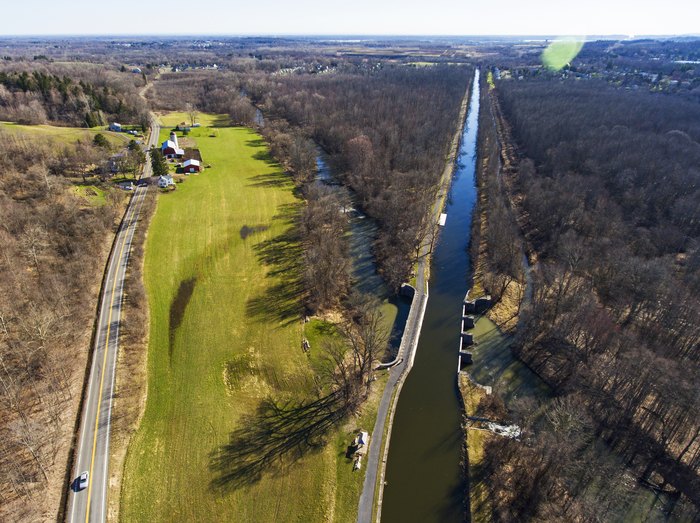 As you can see, the Erie Canal is an amazing piece of New York and United States history. Not only did it help our country to get where it is today, but it was a true engineering marvel that was far ahead of its time. It's great that we are still able to visit parts of the Erie Canal today to enjoy it and to celebrate its place in American history and culture.
If you like canals, you may be interested to learn about the Champlain Canal as well – New York's other famous canal. You can take a boat ride on that one, too: Most People Have No Idea You Can Do This One Awesome Activity In New York
OnlyInYourState may earn compensation through affiliate links in this article.
Related Articles
Explore New York
Featured Addresses

Erie Canal, New York, USA