The Scenic Road Trip That Will Make You Fall In Love With The Beauty Of New York All Over Again
The Adirondack Mountains are spectacular. Take a New York road trip to see these majestic landmarks. These mountains cover nearly 5,000 square miles and they are more than 5 million years old. Since 1892, the area they cover has been designated as Adirondack Park and is a protected area, but 200,000 people live in it seasonally, and 132,000 live there year-round.
As you can imagine or may already know, there is much to explore on an Adirondack road trip. It's a great place to visit for a number of reasons, but one of the biggest draws is its stunning natural beauty. Many people underestimate the Adirondacks, but after visiting, they find that they have fallen in love with the scenery and the environment. Once you've tried it, we are sure you will agree that this mountain trip is one of the best road trips in New York.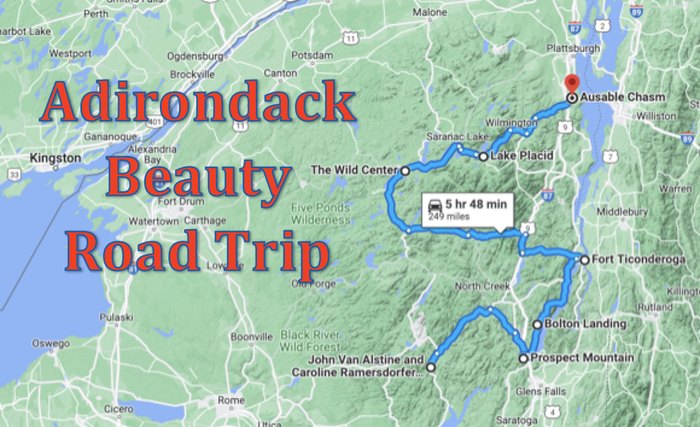 You'll be amazed at all the magnificent sights that you'll see on this road trip around the Adirondack Mountains. This one-of-a-kind road trip is a great way to explore the stunning sights you will find in our beautiful state. Adirondack Park is a remarkable scenic drive in New York and it's likely that you'll want to come back time and time again. It's different and special in all seasons, so visiting this area is well worth it no matter the season or month of the year. From the fall's fantastic autumn foliage to the summer's lush greenery and winter's snowy wonderland, there is so much to love all year long. Share the fun with your family and friends to really make some unique memories, and be sure you bring your best camera to capture all the lovely vistas all around you. So, what are you waiting for? Plan your Adirondack road trip today! If you need some ideas of what to pack, check out our Road Trip Essentials Packing List & Guide. That way, you will be extra prepared for all the fun you're going to have.
OnlyInYourState may earn compensation through affiliate links in this article.
More to Explore
New York Nature
Where are the most scenic hikes in New York?
The most scenic hikes in New York are the perfect places for nature lovers in our state. Check them out:
What are the best day trips in New York?
The best day trips in New York will give you a vacation without having to be gone too long. Here are some of the best choices:
Related Articles