There's A City Of Waterfalls Right Here In New York And It'll Steal Your Breath Away
There's no better place to visit than the City of Waterfalls! And as avid chasers of waterfalls ourselves, there's no combination we love writing about more than these natural wonders paired with a road trip. We've previously written about two unforgettable waterfall road trips in New York. The first trip brings you all around the Finger Lakes, hitting famous locations like Niagara Falls, Letchworth State Park, Watkins Glen State Park, and even a waterfall that has a natural, eternal flame burning right within it. The second trip focuses on areas around the Catskills, bringing you to some of the best waterfalls in New York that are off the beaten path.
But what if you don't have a weekend to spare? Well, you're in luck! Right out at the southern end of Cayuga Lake, you'll discover one of our favorite cities in New York…Ithaca! It's the perfect paradise for any explorer who loves the sight of waterfalls. Right in this city there are more natural wonders to be discovered within a 10-mile radius than you could ever expect. View the entire mapped-out waterfall adventure on Google Maps.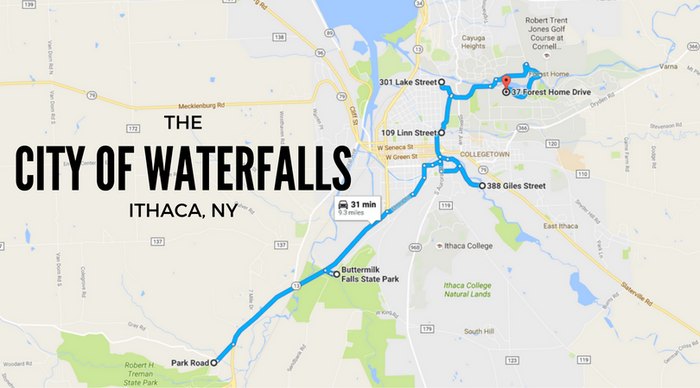 While there are countless cities with waterfalls in New York, there are so many breathtaking cascades hiding in Ithaca that we definitely think it earns its title as the City of Waterfalls! Which one is your favorite?
To discover more natural wonders of our state, read about this above-ground cave hike in New York. Or, if you're looking for some easy-to-access roadside waterfalls, we've got you covered there too!
OnlyInYourState may earn compensation through affiliate links in this article.
More to Explore
City of Waterfalls & Related Info
What are some waterfall hikes I can take in New York?
There are so many wonderful hiking trails with waterfalls in New York; the Empire State is the perfect place for waterfall chasers. For an especially unique (but somewhat challenging) waterfall hike in Buffalo, try this hike to Eternal Flame Falls, where an actual, natural flame burns in a grotto behind the waterfall. You'll also find beautiful waterfalls in Moravia at Fillmore Glen State Park. And if you happen to visit New York's most famous waterfalls, you might like these scenic hikes in Niagara Falls. For more, visit our guide to the best waterfall hikes in New York.
Are there any waterfall swimming holes in New York?
New York has its fair share of old-fashioned swimming holes where you can cool off on a hot summer's day, and some of these do feature waterfalls! In Ithaca, you can swim at Enfield Falls in Robert H. Treman State Park. It's only a brief 0.4-mile trek to the falls from the parking lot, following along an easy, paved trail to reach this popular summertime swimming hole. If you prefer to take a little bit more strenuous hike before you cool off in the water, try the Vernooy Kill Falls Trail in the Catskills. This 4-mile roundtrip hike leads to a beautiful waterfall swimming hole in Kerhonkson. Check out our previous article for more waterfall swimming holes in New York.
Are there any waterfalls in New York you can reach without hiking?
There are quite a few waterfalls in New York that require no hiking whatsoever. Visiting the famous Niagara Falls doesn't require any hiking of course, but there are also a few lesser-known waterfalls you can see without even getting out of your car. For example, Bastion Falls is right on Route 23A and can be seen from the road, though you can also park a little ways past the falls and walk over to get a better view. Visit our guide to find more easy-access waterfalls in New York.
Related Articles
Explore New York