The Gigantic Pizza Burger Served At Champion Pizza In New York Is Almost As Big As The Table
Texas may get the catchphrase, but here in New York, we're no strangers to all things… extra.
Call us superlative, but if having the tallest building in the Western Hemisphere, the largest metro population, the highest annual snowfall, the most Godzilla movies, etc. isn't proof enough, then our food definitely is. After all, we can sling a pretty stellar slice here in NY, but the real rite of passage is folding an outrageously huge, cheesy triangle of piping hot Italian goodness before taking that first bite, yes? (Side note: folding pizza is an Italian tradition. We're being authentic!)
But for all of our claims to fame when it comes to food, we also know that our state is overflowing with incredible restaurants serving up every cuisine imaginable, at every hour, and for every craving. And sometimes, that makes it hard to choose. Burgers? Pizza? An epic buffet of massive proportions?
We say, don't choose. Put on that trademark New York pride and confidence (and maybe some stretchy pants) and have it your way. Get all the things. Go big or go home. Fortunately, you can get your pizza and burger fix all in one motherload of hefty, gooey, all-you-can-eat awesomeness at Champion Pizza in NYC, home of the whopping 40-pound pizza burger. The only question is: are you ready?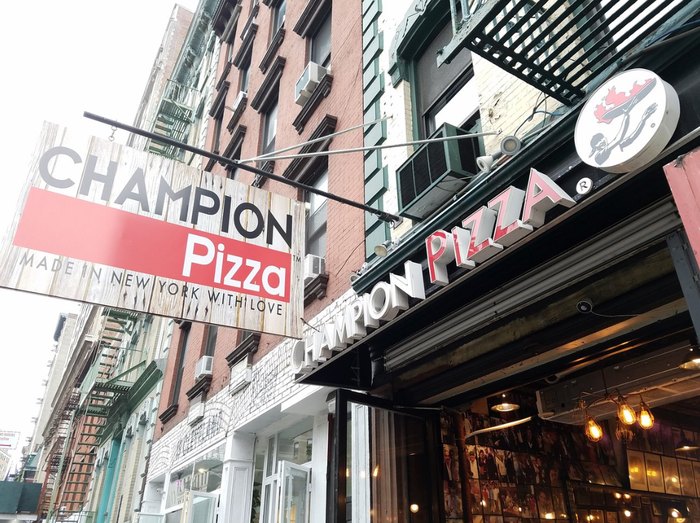 There's a lot to love about NYC, and it just got supersized! While SoHo is the place to find many of Champion's behemoth, philanthropic feats of pizza perfection, the growing pizza shop also has multiple locations to choose from, stretching from SoHo to 5th Avenue and beyond. Now, who's up for a challenge?
For more "over-the-top" eats that take the phrase literally, check out our list of The Empire State's best rooftop restaurants! You can also nominate your favorite restaurants, places to visit, and more here. 
Address: 17 Cleveland Pl, New York, NY 10012, USA
OnlyInYourState may earn compensation through affiliate links in this article.