You Could Easily Spend All Weekend At This Enormous Buffalo Flea Market
One of the best parts about the change in seasons is being able to head back to our favorite outdoor Buffalo businesses, and the best of the best (in our opinion) is spending a day at the flea market! This destination near Buffalo puts garage sale-ing to shame. Read on to see why you could easily spend all weekend at the Antique World & Flea Market in Clarence near Buffalo.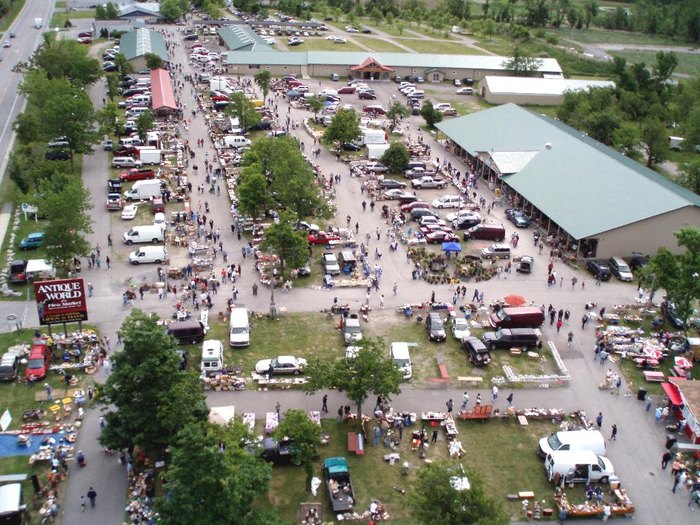 Check out what local vloggers Billy & Pat have to say about Antique World & Flea Market in the video below!
Have you ever been to Antique World & Flea Market? Share your favorite finds with us in the comments!
Find more shopping adventures in this article about charming general stores in the state.
OnlyInYourState may earn compensation through affiliate links in this article.
Adventures in New York
March 14, 2023
Where can we go thrift shopping in New York?
Found In Ithaca in Tompkins County is a very popular antique and vintage marketplace, not just for what it offers but also because they also play host from May through October to flea markets in its parking lot.
The Serendipity Shoppe of Buffalo in Buffalo is unexpected because it is located inside of the First Presbyterian Church in Buffalo, and once inside you'll find everything from jewelry to furniture, art, books and a great deal more,
One Potato Two in Bloomfield features a wide array of thrift items within a 7,000 square foot mall where you could get lost for hours.
Learn more about all the wonderful places to go thrift shopping in New York.
Where can we find festivals in New York?
Brick Fest Live which celebrates all things LEGOs is part of the popular traveling pop-up event that takes place in numerous cities, including The Empire State.
The New York State International Film Festival is one of the biggest festivals in the state, coming there every September and featuring over several hundred films from two dozen different countries.
The Syracuse Winterfest is a popular winter festival taking place every February featuring drink mix-offs, cook-offs, trivia games, and other activities.
Learn more about all the wonderful festivals in New York.
Where can find small towns in New York?
Keene is a popular spot to live as well as to visit for its picturesque hiking trail.
Babylon is a scenic village featuring boat tours, small parks, fishing spots, and more.
Garrison has a lot to offer including an Audubon center and sanctuary, design center, and botanical garden.
Learn more about some of the many quaint small towns in New York.