Take This Epic Road Trip To See The 11 Volcanoes That Shaped New Mexico
Volcanoes are cool! In New Mexico, our volcanoes are part of what makes our landscape so special. Did you know that New Mexico is also called "The Land of Volcanoes"? Not only do we have a lot of volcanoes, but we also have almost every type of volcanic landform. Many of our volcanic features also play a part in Native culture and are considered sacred. To see some of the most significant volcanoes in New Mexico as well as volcanic features across the state, check out our Volcano Road Trip.
This road trip will take you to 10 stops with a bonus 11th stop at the end if you so choose. Use our interactive map as your guide.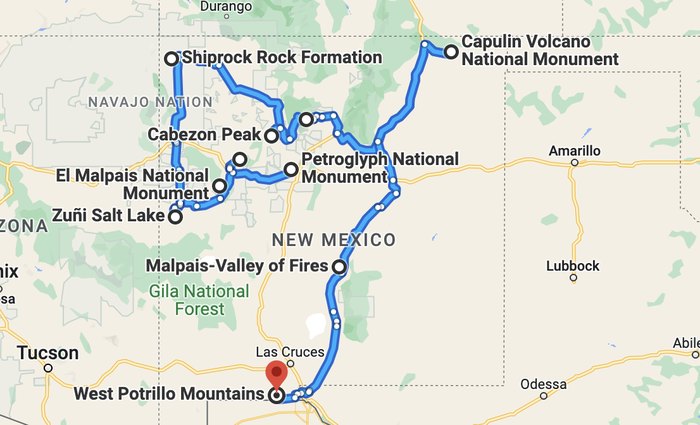 It doesn't take much to see a few volcanoes in New Mexico. We're sure you've seen a few. Were you surprised that some of these landscape features were formed by volcanoes? Which are your favorites and why?
Address: Petroglyph National Monument, Western Trail NW, Albuquerque, NM 87120, USA
Address: Capulin Volcano National Monument, New Mexico 88418, USA
Address: El Malpais, New Mexico 87020, USA
Address: Mount Taylor, Mt Taylor, New Mexico 87020, USA
Address: West Potrillo Mountains, New Mexico 88021, USA
Address: Valles Caldera, New Mexico 87025, USA
Address: Zuñi Salt Lake, New Mexico 87829, USA
Address: Shiprock Pit, Shiprock, NM 87420, USA
Address: Jornada del Muerto Volcano, New Mexico 87832, USA
Address: Malpais-Valley of Fires, Carrizozo, NM 88301, USA
Address: Cabezon Peak, New Mexico 87053, USA
Volcanoes In New Mexico
July 07, 2022
How many volcanoes are there in New Mexico?
There are approximately 13 volcanoes in the state of New Mexico. These include both extinct and dormant volcanoes. 
What is the tallest mountain in New Mexico?
At 13,161 feet, Wheeler Peak is the tallest point in the state. Located in the Taos Mountains, Wheeler Peak provides some of the most spectacular views in the state. If you are able to hike to the summit, it is absolutely worthwhile as you can take in panoramic views of the Rio Grande Gorge and surrounding mountains. 
What are some other natural wonders in New Mexico?
While the volcanoes found in and around New Mexico are natural wonders, there are plenty of other jaw-dropping landforms you need to see for yourself. Shiprock is among the most famous natural landmark in the state. Standing alone amongst the flat landscape, it looks like a mirage from a distance. The rugged Organ Mountains rise out of the landscape, their forms reminiscent of organ pipes. It's truly a spectacular sight to see! What are some of your favorite natural wonders in New Mexico?
Address: Petroglyph National Monument, Western Trail NW, Albuquerque, NM 87120, USA
Address: Capulin Volcano National Monument, New Mexico 88418, USA
Address: El Malpais, New Mexico 87020, USA
Address: Mount Taylor, Mt Taylor, New Mexico 87020, USA
Address: West Potrillo Mountains, New Mexico 88021, USA
Address: Valles Caldera, New Mexico 87025, USA
Address: Zuñi Salt Lake, New Mexico 87829, USA
Address: Shiprock Pit, Shiprock, NM 87420, USA
Address: Jornada del Muerto Volcano, New Mexico 87832, USA
Address: Malpais-Valley of Fires, Carrizozo, NM 88301, USA
Address: Cabezon Peak, New Mexico 87053, USA