Climb Aboard A Gorgeous Vintage Train And Take A Ride Back Through History In New Mexico
Whether you're a longtime resident or an out-of-town visitor just passing through, anyone who takes the time to explore the great state of New Mexico will easily discover completely fascinating pieces of the past. Showing you a side of the Land of Enchantment that you don't get to see on a regular basis, train rides in New Mexico can offer you an exciting ride through history. If you're ready to see a whole new side of our state, it's time to start planning your trip on scenic railroads in New Mexico. Take a look!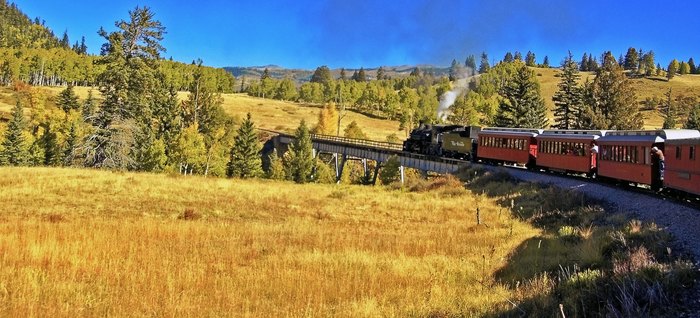 If you're still feeling ready to explore more of our state's fascinating history, then you're going to love reading about The Unique Village In New Mexico Where Time Stands Still!
OnlyInYourState may earn compensation through affiliate links in this article.
Address: Cumbres & Toltec Scenic Railroad, 500 Terrace Ave, Chama, NM 87520, USA
Train Rides In New Mexico
May 28, 2021
How to prepare for your ride on the Cumbres & Toltec Railroad in New Mexico
The Cumbres & Toltec Railroad in New Mexico is an experience you'll likely never forget. This is not only one of the most scenic railroads in New Mexico, but also in the entire United States. To ensure you have a memorable experience, here are a few things to consider:
Deluxe and Parlor class ticket purchasers are allowed to choose their own seats when they buy a ticket. If you choose to ride in a coach car, you will be assigned a seat.
You are welcome to bring your own snacks and non-alcoholic beverages on the train ride.  However, if you don't want the hassle, there is a concession car on each train that sells all types of delicious goodies.
If you are in need of wheelchair assistance, lifts are available. However, these lifts are only available on select coaches and motorcoaches. You will want to mention all accessibility needs when making your reservations.
There is little storage space on the trains so you will want to pack lightly. The Cumbres & Toltec Railroad in New Mexico ask that you avoid bringing large items such as strollers to preserve space.
You are welcome to move about the train. However, make safety a priority as the train may jerk and you are more susceptible to falls and injuries.
Unique things to do in New Mexico
New Mexico is known as the Land of Enchantment for a reason. There are many unique sights to see, attractions to visit, and delicious meals to eat. If you are looking for a unique place in New Mexico to spend a warm, sunny day, check out the Blue Hole in Santa Rosa. This is one of the coolest scuba diving locations in the state. Another unique thing to do in New Mexico and that will provide an unforgettable overnight adventure is the Santa Fe Tree House Camp. At this campground, you can spend the night inside a comfortable treehouse-style cabin.