Here Is What Winter Looked Like In New Mexico More Than 75 Years Ago
We can feel pretty cozy during New Mexico winters these days, but decades ago? Things were a little rougher for our parents and grandparents when central heating hadn't even been imagined and paved roads in small towns were rare. During the Great Depression and World War II, anthropologist and photographer John Collier Jr. documented daily life for the Farm Security Administration (a New Deal program) and later the Office of War Information.
The photos created during this time period are best known for showcasing the hardships farmers endured at the time but also for giving us a peek at the lives our parents and grandparents led. Here's a look at the winter in New Mexico he, and other FSA photographers, captured during those rough years. Some of the worst winters in New Mexico are long behind us… but at least there are photos!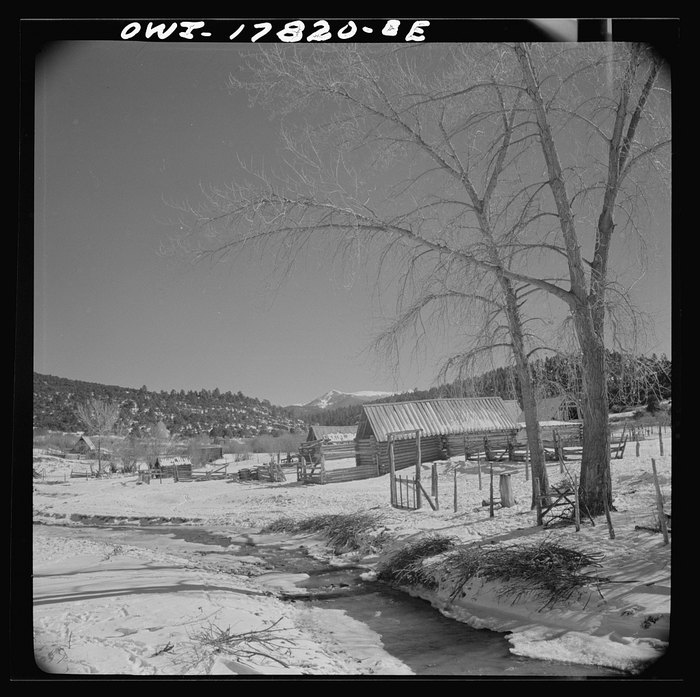 What an interesting project these photographers captured. A story not only about New Mexico winters but about how life was for generations past. What are some of your memories of winters in New Mexico? How were those days different from today?
Our parents and grandparents lived through some pretty treacherous winters, so their stories about walking uphill in the snow both ways aren't too far from the truth. Read about more winter towns in New Mexico and some of the most horrific winter storms in New Mexico's history.
OnlyInYourState may earn compensation through affiliate links in this article.
More to Explore
Worst Winters in New Mexico
What counts as record snowfall in New Mexico?  
New Mexico is more desert and plains than anything else, though it does have mountainous areas that get snow on the regular. However, from time to time, something totally crazy happens, and states like New Mexico end up with record-setting amounts of snow on their hands. For example, in 1973, the city of Alburquerque received a jaw-dropping 34.3 inches on December 31st. This was nearly unheard of, and to this day, nothing quite like it has happened since. However, history can do one better: in 1918 (interestingly, also on December 31st), the town of Clayton, New Mexico received an unreal 54.5 inches of snowfall – and those each happened in just one day. The two-day record snowfalls include Clayton, again, which received 24 inches of snow in 48 hours. Seems like if you're into the occasional record snowfall, Clayton is the place to be!  
Where are some of the best places to spend winter in New Mexico?  
New Mexico may not be known for its crazy amounts of snow (unless it's 1973, anyway), but that doesn't mean it isn't a wonderful place to explore during the winter! Some of our favorite destinations to enjoy winter in New Mexico include Sandia Peak, which usually receives enough of the white stuff for skiing. It's home to some amazing views, too, so it's a must-do! You can go ice fishing on Lake Maloya (or Lake Alice), go skiing or on a pleasant sleigh ride in Angel Fire, or rent a cozy cabin pretty much anywhere in the state (but it's best if you go to the mountains for a white winter)! You can also kill some time on a chilly day at any of New Mexico's lovely, cozy hot springs. For more ideas about what to do during winter in New Mexico, check this article out!  
Related Articles
Explore New Mexico