We Just Planned Your 2022 Year Of New Mexico Hikes And You'll Love Them All
It's the new year, and that means it's time to start planning so that you can fit every activity into your schedule before 2022 is up. Hiking in New Mexico is one of the most beautiful activities you can partake in, and if your resolution was to get outdoors more, we have the perfect solution. These 12 best hikes in New Mexico correspond with the time of year, offering the perfect time to visit each trail.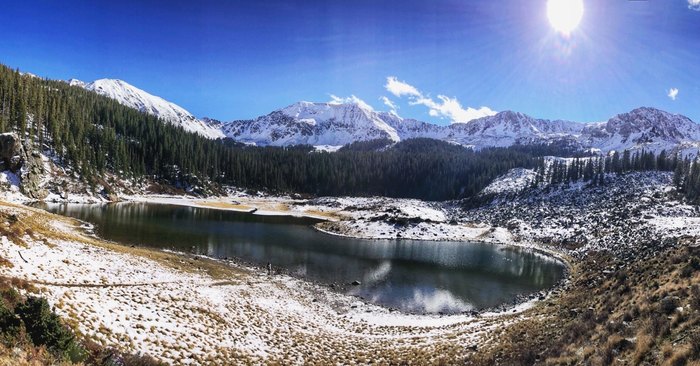 Where do you plan to hike in 2022? Share your favorite New Mexico trails with us in the comments!
Don't forget to share photos from your hiking adventures with us throughout the year in our New Mexico Nature Lovers Facebook group, or tag us on Instagram by tagging #onlyinnewmexico for a chance to be featured!
For another list of New Mexico trails to take on, check out the ultimate waterfall hike bucket list if you're a waterfall lover.
OnlyInYourState may earn compensation through affiliate links in this article.
Best Hikes in New Mexico
June 27, 2022
Are there any hiking trails in El Morro National Monument?
Yes. El Morro National Monument encompasses two popular hiking and walking trails for various physical ability levels. The Inscription Rock Trail Loop is a great one if you are hiking with kids. It runs into another popular loop called the Headland Trail (together totaling two miles). In addition to hiking and walking, during certain times of the year, you can embark upon ranger-led programs that provide some of the histories of the park and the early inhabitants who made it their home thousands of years ago.
Where can I find waterfall hikes in New Mexico?
Waterfall hikes are literally dotted all over The Land of Enchantment! In the Carson National Forest, you'll find the Lost Lake Trail. Gaining over 2,000 feet in elevation as you meander along the 10-mile-long length, this trail is definitely for those who are a bit more fit. For something a bit easier, you might try the Soledad Canyon Loop in Las Cruces. It is only three miles long, but seeing this beautiful waterfall is totally worth it.
How many state parks are in New Mexico?
There are 35 state parks in New Mexico, each offering its own unique history, viewpoints, and recreational amenities. Whether you like to swim, climb, hike, camp, fish, or bike ride, you will find a park that suits your needs and desires.
I'm looking for a few ideas for a New Mexico road trip.
You're in luck because there are some fabulous New Mexico road trips covering a wide array of itinerary themes. If you enjoy visiting ghost towns, there is a big loop covering seven of them but you'd definitely have to spend the weekend in order to see them all. New Mexico is home to several dormant volcanos, and there is a road trip itinerary to visit some of those as well, located in places like Shiprock, Jemez Springs, Albuquerque, and Carrizozo, just to name a few.
Can you name a campground near Albuquerque?
Yes. About an hour and 45 minutes northeast of the city, you can visit the Holy Ghost Campground in the Santa Fe National Forest. Maybe it's the name that draws folks here from all over the state (and it is believed to be haunted!), but once they get here, they will find lots of hiking trails, streams, and other outdoor wonders to behold. Be sure to pack a "Ghostbusters" flashlight to catch the apparitions at night!