On This Day In 2001, The Unthinkable Happened In New Jersey
On September 11th, 2001, 246 people got ready for their morning flights, 2,606 people headed to work, 343 firefighters prepared for their shifts, 60 police officers began their morning patrol and 8 paramedics were ready to save lives. None of them lived past 10 a.m. that day. A stark reminder of the fragility of life, our hearts collectively broke. The tragedy reminded us to appreciate every moment and brought the country together, showing our resilience. Still, that doesn't make what occurred any less devastating.
Seventeen years later, I still weep while typing this. I vividly remember every moment of the attacks, watching the news, seeing the smoke, feeling confusion and fear. I lived just minutes from New York City and could see the World Trade Center from my backyard. While Manhattan was hit hardest, we all lived through the terror. Phone calls to loved ones, prayers of hope, strangers reaching out to lend a helping hand. 700 New Jerseyans perished, and the ill fated United Airlines Flight 93 flew out of our own Newark Airport.
While I could cover all the devastating details, I'd rather honor those who lost their lives, those who were willing (our brave first responders), and those who survived. Following, you'll find photographs of several September 11th monuments and memorials in New Jersey, along with quotations related to the events of that day.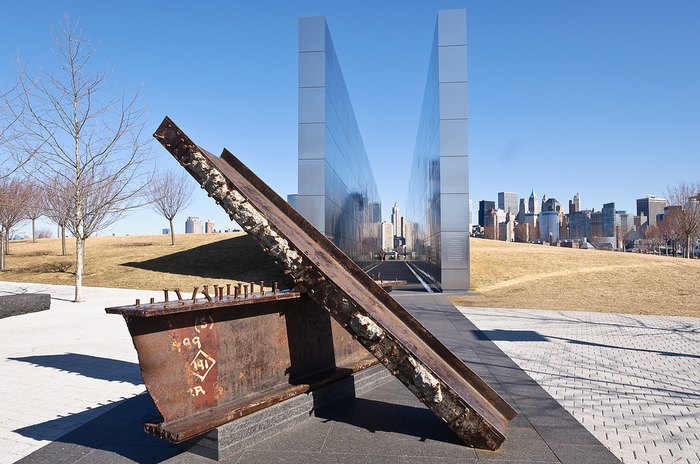 Feel free to share your memories, stories of kindness, and tributes to loved ones in the comments. While it is easy to remember the horror, we must also remember the helpers, the humanity that shined through the darkness… Two former U.S. Marines (Jason Thomas and Dave Karnes) put their uniforms back on and searched through rubble – they found two survivors. Two unarmed F-16s scrambled to stop any other hijacked airliners – the pilots (Maj. Heather Penney and Col. Marc Sasseville) were prepared to give their lives to stop them, willing to serve as kamikazes if necessary. A tour guide at the Pentagon (trained EMT, Army Spc. Beau Doboszenski) gave medical aid to the injured outside – then he went back in to the building while it was still in flames.
All of these men and women are heroes, and many more emerged in the hours and days following the September 11th attacks. Strangers opened up their homes, volunteers handed out water, cab drivers gave free rides…people came together. We triumphed in tragedy, we persevered, and, perhaps most important of all, we were kind.
OnlyInYourState may earn compensation through affiliate links in this article.