This Natural Wonders Road Trip Will Show You New Jersey Like You've Never Seen It Before
While New Jersey does have one of the most dense concentrations of railways and roadways in the nation, we're not all highways and train tracks. It's true. If you're not familiar with the state, you might find yourself wondering, "What are the natural wonders of New Jersey?" And the answer is, there are lots of New Jersey natural wonders! The Garden State has an abundance of natural beauty, and one of the best ways to enjoy it is a multi-day road trip. This particular trip focuses on the northern portion of the state, looping through several counties including Sussex, Warren, Bergen, and Passaic. While a fun jaunt any time of year, we think it truly stands out in the fall (but that's just our opinion). Whatever time of year you decide to embark on this trek, prepare to enjoy one of the best road trips in New Jersey!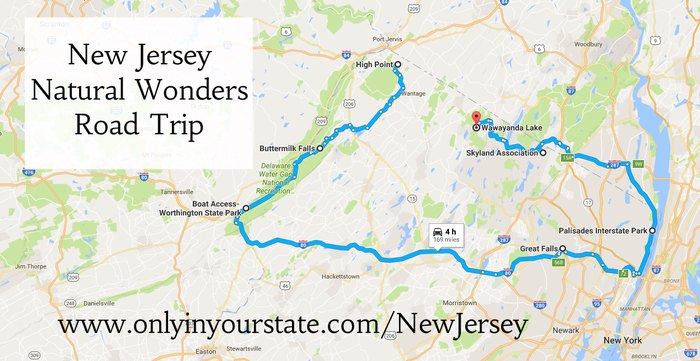 So, what do you think? Does this answer the question, "What are the natural wonders of New Jersey?" Are these the best of all New Jersey natural wonders? How does this route rank among other New Jersey road trips? Whatever you have to say, we want to hear it, so share your thoughts with us!
While there are many other New Jersey natural wonders (hello, Pine Barrens!), this trip focuses on a specific area of the state to cut down on driving time. For a road trip that celebrates our southern shoreline, check out this New Jersey road trip, which is sure to result in an unforgettable summer adventure. For more on Cliffdale Manor (mentioned above), check out our past article to learn more about the hidden ruins in New Jersey.
OnlyInYourState may earn compensation through affiliate links in this article.
More to Explore
New Jersey Natural Wonders
What are the natural wonders of New Jersey, aside from those mentioned above, that are a must-visit for all residents?
There are quite a few New Jersey natural wonders that should be visited by all, including:
Sunfish Pond – Located within the Water Gap area, Sunfish Pond is a glacial lake along the Appalachian Trail.
The Pinelands - The Pinelands, or Pine Barrens, is a one-of-a-kind ecosystem in southern New Jersey.
The Jersey Shore – The shoreline coastline features expansive beaches along the outer coastal plain, with multiple barrier islands, massive dune systems, and a habitat for thousands of species.
What other New Jersey road trips are worth embarking on?
There are lots of great options for road trips in New Jersey, including:
Related Articles
Explore New Jersey