This Eerie Footage Of A Boat Graveyard Along New Jersey's Coast Will Mesmerize You
Many New Jerseyans are familiar with the Arthur Kill. It is a tidal strait that runs between Staten Island and New Jersey's Middlesex and Union Counties. About 10 miles long, it is lined with industrial sites on our side of the border and provides access for ocean-going container ships to Port Newark. Heavily polluted in the 1960s and 70s, few fish could survive in its water. After the EPA was established, water quality improved and crabs, baitfish, striped bass and bluefish have returned to the Arthur Kill.
Not only home to marine life, the Arthur Kill hosts two small, uninhabited islands and something even more intriguing… a ship graveyard. The site was once open to the public but now can only be viewed in passing by boat or via drone. Formerly a scrapyard, the business purchased WWII-era ships to strip for parts but couldn't keep up and many ships were left in the water, decaying for decades. A truly unforgettable sight, the ship graveyard is located just across the Arthur Kill from Carteret, on New York's side of the strait.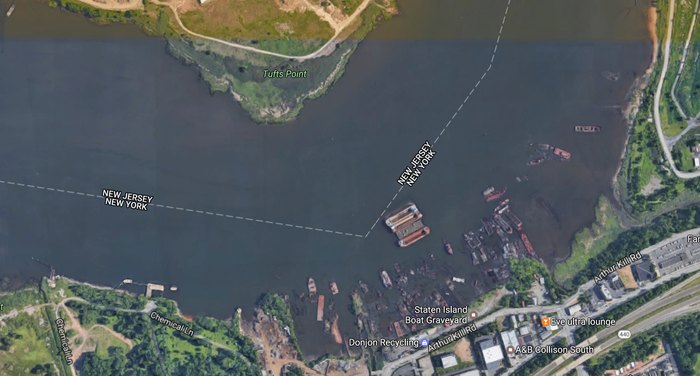 Watch the video below and enjoy breathtaking footage of the boat graveyard captured by Jersey Drone. It takes you right down to the surface of the ships:

OnlyInYourState may earn compensation through affiliate links in this article.