Drink Cider Slushies, Enjoy A Hay Ride And Explore A Corn Maze Experience At This New Jersey Farm
It may sound hard to believe, but there are indeed places in New Jersey where the whole family will have an absolute blast. One such place puts on a family fall fun bonanza: Etsch Farms in New Jersey. This farm has it all during the chillier months — cider slushies, hay rides, corn mazes, sweet animals, treats, and more. When all signs point to fall in New Jersey, make this farm one of your ultimate autumn destinations!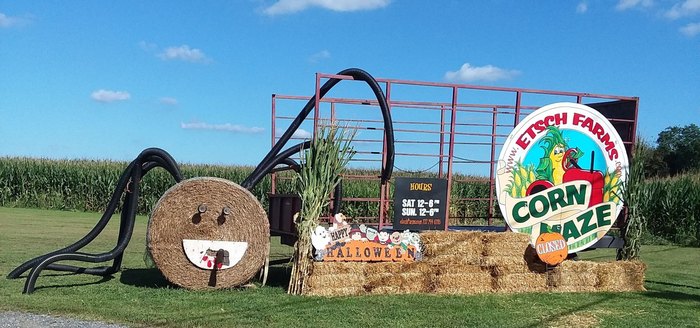 We can't think of a better place to spend the fall season in New Jersey than Etsch Farms! Have you been?  We would love to hear about your visit!
Address: Etsch Farms, 556 Buckelew Ave, Monroe Township, NJ 08831, USA
Fall In New Jersey
September 01, 2022
What Are Some Of The Best Corn Mazes In New Jersey
When the air begins to turn cooler and the leaves begin to change, one of the most beloved fall activities for any age is to visit a corn maze. New Jersey has a variety of corn mazes for you to choose from, and we've rounded up a list of some of the best corn mazes in New Jersey. Many people like to add a little fright to their activities when Halloween is getting close. You can wander through rustling corn stalks in the dark of night and be scared silly at this haunted cornfield. Not feeling quite as brave? You can also enjoy a family-friendly nighttime corn maze at this New Jersey farm. Need to relax a bit more? You may prefer to map out a visit to this distillery and corn maze in New Jersey.
Things To Do During Fall In New Jersey
From pumpkin patches to corn mazes, autumn leaves to apple cider, the changing of the seasons from summer to fall brings with it the anticipation of a variety of seasonal activities. One of the best ways to get started on your fall bucket list is a visit to a pumpkin patch. We have a list of some of the most charming pumpkin patches in New Jersey. Mother Nature often likes to show off when the leaves start to change color, and this zipline tour gives you a bird's eye view of all the vibrant colors of fall. Combine several fall activities into one by taking this train ride through New Jersey to see the fall foliage, visit a pumpkin patch, and wander through a corn maze. Don't miss out on admiring the creativity people showcase in this pumpkin glow!
Best Places To Visit In New Jersey In The Fall
Fall is one of the most picturesque times of year, and there are plenty of places you will want to make sure and visit. Check out some of the most beautiful places during fall in New Jersey as the weather begins to cool. This list of day trips in New Jersey are picture perfect in autumn. We have also rounded up a list of the best apple orchards that the state has to offer! You'll want to make time to visit this ultimate small town destination for an ideal fall day. No matter how you choose to spend your fall days, we've got you covered!
Address: Etsch Farms, 556 Buckelew Ave, Monroe Township, NJ 08831, USA