You've Never Experienced Anything Like This Epic Abandoned Railroad Hike In New Jersey
Are you looking for abandoned railroad lines in New Jersey? There are a ton of abandoned railroads in NJ, with many of its railway lines having once run through the Pine Barrens. Trains transported spoils of New Jersey mines throughout the state and into New York, Pennsylvania, and beyond. As the mining industry dwindled and other forms of transportation gained favor, hundreds of miles of track were left abandoned. Much of this track has been removed as part of the rails-to-trails program, but there's a wonderful hike in Wharton State Forest at the Atsion Recreation Area where you can still see remnants of what once was.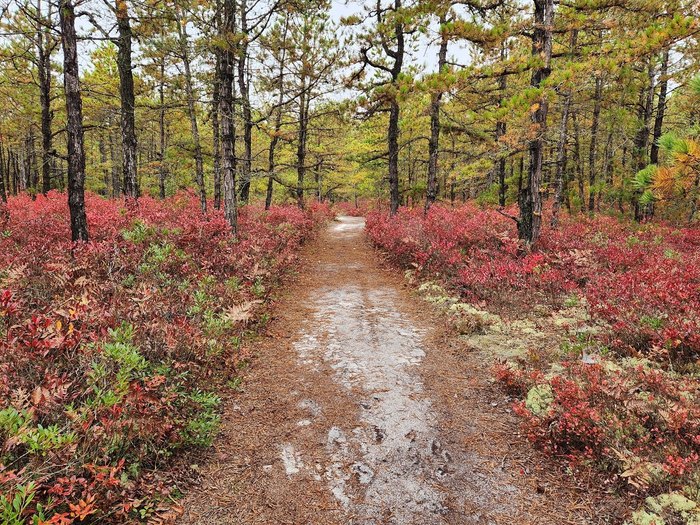 Get a closer look at this beautiful area:
Learn more about this Atsion Recreation Area hike to help you prepare for your trip.
Have you ever been to this abandoned rail trail in NJ? What are some of your favorite abandoned places near me in New Jersey? Tell us in the comments!
For other amazing hikes in New Jersey, check out this Garden State hiking bucket list. Be sure to check with AllTrails for any trail closures and updates.
OnlyInYourState may earn compensation through affiliate links in this article. As an Amazon Associate, we earn from qualifying purchases.
More to Explore
New Jersey Haunts
Are there any haunted places in New Jersey?
Like any other state, there are many haunted places in New Jersey.  Haunted places in New Jersey include:
The Emlen Physick Estate: Located in Cape May, this house was built by a doctor in 1879. After he and his family passed away, no other residents remained in the house for very long, reporting it to be haunted.
Shades of Death Road: This .7-mile rural road is located within Jenny Jump Forest. It is said that it's haunted by the criminals and victims of highway robbers who were hanged from trees along the road.
The Devil's Tower: Built by a loving husband for his wife in 1910 so that she could get a broad view of NYC, it's believed that from this tower she saw her husband being unfaithful and jumped to her death.
What are the creepiest cemeteries in New Jersey?
It can be argued that any cemetery is spooky, but here are a few picks for the creepiest cemeteries in New Jersey:
Union Cemetery: Located in Hackettstown, this cemetery is said to be haunted by Tillie Smith, an 18-year-old girl who was brutally murdered and buried here.
Eglington Cemetery: This cemetery is in Clarksboro. Established in 1776, it has hundreds of years of history and spirits to haunt it. There are 70,000 people buried here, and it is widely believed that many of them roam the cemetery still.
Are there any haunted hotels in New Jersey?
If you want to make an overnight out of it, there are several haunted hotels in New Jersey:
Angel of the Sea: This hotel is located in Cape May. It is said to be haunted by a former guest who in the 1960s fell to her death after trying to climb into her room from the outside.
Grenville Hotel: This hotel is located in Bayhead. Built in 1890, many of its guests have reported strange occurrences during their stay, from phantom children making noise in the hallway to spirits roaming the corridors.
Surf City Hotel: You'll find this haunt on Long Beach Island. While the original structure built in the late 19th century burned down, its spirits seem to have stayed on the land.
Related Articles
Explore New Jersey