This Haunted Road Trip Will Lead You To The Scariest Places In New Hampshire
Sometimes day-to-day life gets a little monotonous, don't you think? Perhaps the easiest way to jolt yourself out of your routine is with a good scare. Take this road trip that starts in Nashua, heads up to the Lakes Region, and comes back down through Henniker to end in Fitzwilliam, and your chances of a paranormal encounter are pretty darn high. Are you ready to experience the most haunted places in New Hampshire?
For exact locations and directions, check out the interactive Google Map here.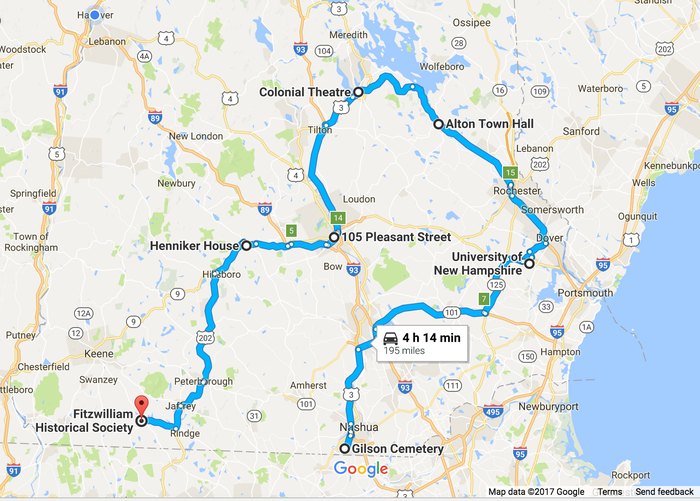 Have you ever had an other-worldly encounter in one of these most haunted places in New Hampshire? What are your favorite scary places in New Hampshire? Tell us in the comments!
For more ghostly adventures, read our Definitive Guide To All Things Haunted And Creepy In New Hampshire.
OnlyInYourState may earn compensation through affiliate links in this article. As an Amazon Associate, we earn from qualifying purchases.
More to Explore
Most Haunted Places In New Hampshire
What is the most famous ghost story from New Hampshire?
It's not uncommon to have a ghostly encounter and hear of ghosts in New Hampshire. In addition to the famous story of Ocean-Born Mary, the hauntings of the orphan of Chase House is a frequently-told tale. The building, located in Portsmouth, was built in the 19th century as a home for orphaned children. According to legend, a little girl hanged herself in her bedroom. Her spirit lingers in the building to this day. When she's spotted, she often runs away toward her room and disappears into thin air. 
What is the most haunted town in New Hampshire?
Bretton Woods is the most haunted town in New Hampshire. This lovely town is home to the Mount Washington Hotel. Here, numerous spooky things have occurred. A shadowy female figure often looms around this hotel flicking the lights on and off. She's believed to be the ghost of Carolyn Stickney, the wife of the hotel's original owner. Room 314 is supposedly her old living quarters, and guests report seeing her float around her old four-post bed. 
What is the creepiest abandoned place in New Hampshire?
If you're yearning to explore a spooky abandoned town, venture to Livermore Village in Northern Grafton County. This creepy place was built as a logging settlement in the early 1900s. By 1946, the entire town was empty. Today, the old homes have been overtaken by trees. Amongst the old brick buildings, you can see remnants of what used to be. It's definitely one of the creepiest abandoned places in New Hampshire.
Related Articles