Get Ready To Bundle Up, The Farmers' Almanac is Predicting Below Average Temperatures This Winter In New Hampshire
No matter the season, here in New England we've always got one eye on winter. It's typically safe to assume that many days will be grey and chilly. We can also count on more than a few snowy days. But the extent to which we must brace ourselves can vary. Some years winter seems to come and go, while others arrive with an onslaught and keep it coming until well into spring. Curious what to expect this winter? Thanks to the Farmers' Almanac winter weather forecast we have some more details to help you prepare for the upcoming 2022-2023 winter season in New Hampshire.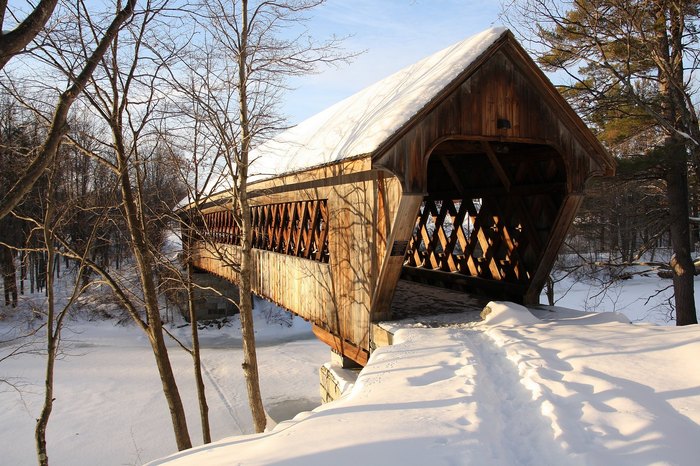 How do you feel about the upcoming winter season in New Hampshire, as predicted by the Farmers' Almanac? Are you the type that welcomes the cold or are you already looking into tropical vacations? Share your thoughts with us in the comments on Facebook.
And if you choose to enjoy a local winter this year, consider heading outdoors: these seven New Hampshire parks are even more beautiful in winter!
Address: New Hampshire, USA
OnlyInYourState may earn compensation through affiliate links in this article.
Farmers' Almanac winter weather forecast
August 29, 2022
What are some of the worst winter storms in New Hampshire history?
New Hampshire residents are used to brutal winters, but there are certainly some that stand out. The snowiest winter in New Hampshire history was recorded in 1969 and it wasn't pretty. While there have been plenty of outrageous snowstorms in New England over the last century, it's the 100-hour snowstorm of February, 1969 that earns the honor of being considered the worst. It also dumped the most snow on the state of New Hampshire that has ever been recorded weather history. The 100-hour storm came just a few weeks after the February, 1969 nor'easter that battered the northeast from February 8th through February 11th. During this historic snowstorm, more than 30 inches of snow fell across much of the state, affecting huge swaths of populations for the four days that the storm raged. Business were shuttered, schools closed and people were stuck inside their homes unsure of what to expect once the storm had passed.
More recently, the Great Blizzard Of 2011 surprised everyone by how early — and relentless — it was. Snow accumulation across the state ranged from two to three feet. Jaffrey, New Hampshire, in Cheshire County, recorded the most snow at 31.4 inches. What was significant about this storm is how much snow fell, so early in the season. Oct. 30, of 2011, was the earliest day of the year that such an accumulation of snow had ever been recorded in New Hampshire!
Address: New Hampshire, USA
OnlyInYourState may earn compensation through affiliate links in this article.