This All-Day Float Trip Will Make Your New Hampshire Summer Complete
As the weather continues to heat up, and we head for the lazy days of summer, many of us are looking for the perfect way to enjoy the season without totally overheating or shelling out too much money. Perhaps the best way to do that in New Hampshire is to take a float trip – drifting down the river with a group of friends, perhaps a cooler of adult beverages – what could be more relaxing? If that sounds appealing to you, we've got the perfect outing for you. Tubing in New Hampshire! Round up your friends and plan a day out on the river!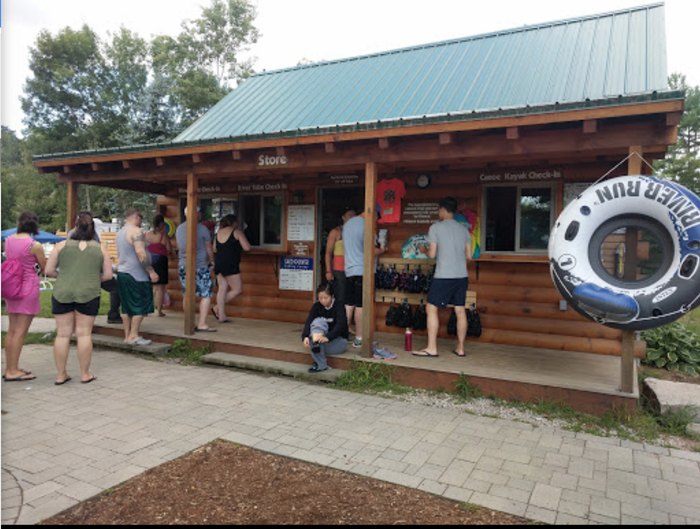 You can find Saco Canoe Rental Company at 558 White Mountain Highway, Conway, NH, 03818. Check out their website or Facebook page for more information!
Prefer that your watery adventures involve slides? Check out this great water park!
OnlyInYourState may earn compensation through affiliate links in this article.
Tubing In New Hampshire
July 28, 2019
Where is the best place to go tubing in New Hampshire?
Tubing in New Hampshire is a popular past time for folks during the heat of the summertime. It offers up a great way to experience the beauty of the state, while also taking in a bit of sun and water fun during the hotter months. Still, taking in the beauty of the great outdoors without breaking a sweat is pretty tempting, and the Granite State has multiple opportunities for tubing both on your own and in a group. Visitors and locals alike can find great river tubing opportunities with companies like the aforementioned Saco Canoe Rental, Plymouth Ski and Sports, Saco Bound, and Bretton Woods.
What else can I do besides tubing at Saco River?
The Saco River is a great backdrop for hikers, tubers and campers alike. At over 136 miles long, it's a prime spot for visitors who love the water and locals who are looking to experience a bit of time in the great outdoors. There are multiple campgrounds along its banks, offering opportunities to kayak, canoe, fish, and swim.
Does New Hampshire have clean rivers? 
Some folks do find themselves wondering whether or not the water in New Hampshire is clean, and we're happy to report that not only does the state government work hard to preserve the beauty of the natural waterways, but so do the locals. The Clean Water Network helps to clean up and protect the lakes, streams, and rivers that cut through New Hampshire as well, making for a solid step forward towards completely pure water quality.