8 Easy-Access New Hampshire Waterfalls That Are Perfect For A Summer Adventure
Summer is here and with it comes the ability to venture outdoors easily. Remember the days of snow, cold and winter jackets? Us either! All we can think about now are the warm breezes that are waiting to greet us with every new outdoor adventure. But, they don't all need to be difficult. If you are tired of googling "Waterfalls near me", look no further! These waterfalls can all be seen without much effort and each one is more beautiful than the next!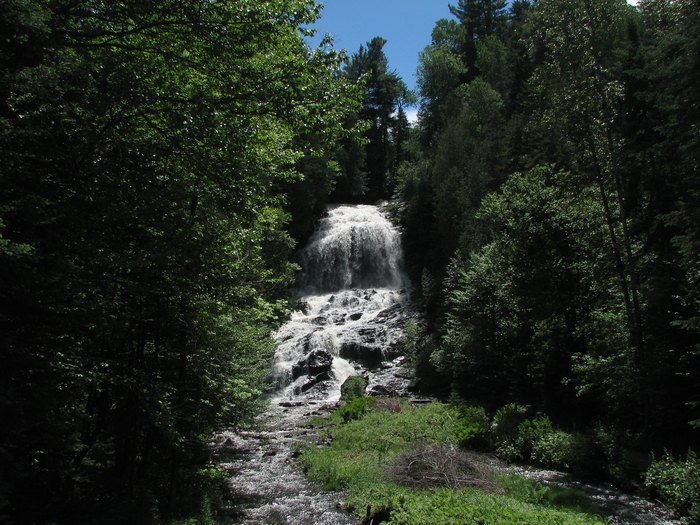 What's your favorite waterfall to visit here in New Hampshire? If you're looking for an even bigger adventure you can spend the day exploring New Hampshire's tallest falls on this wonderful waterfall road trip!
OnlyInYourState may earn compensation through affiliate links in this article.
More to Explore
Waterfalls Near Me
What are the best waterfall hikes in New Hampshire?
Home to the famous White Mountains, New Hampshire is full of some of the best, and some of the most extreme, hikes in the country. This tiny state punches well above its weight class in hikes, and continues to do so when looking at waterfall hikes. If you are looking for a waterfall hikes to explore, we have some of the best waterfall hikes in New Hampshire for you.
Sabbaday Falls
Sabbaday Falls can be found in the southern portion of the White Mountain National Forest near Bartlett, New Hampshire just a half mile off the Kancamagus Highway, and is a sight to behold. What's more, it's less than a half mile each way, so anytime you are trying to get outside for a quick and refreshing hike near a waterfall, you know you can do this hike in about 30 minutes! Your hike to the waterfall will follow the river giving you a sneak peak at what's to come. The waterfall itself, is actually made up of multiple drops, giving you quite the show. The first drop is a 5 foot drop that flows into the punchbowl. From there, the water hits another 4 foot drop before taking the largest drop—the main 22 foot fall. After this main fall, there is just one more 8 foot drop. Exploring this area and watching this water charge down the falls is truly something to behold and makes this one of the best waterfall hikes in New Hampshire.
Zealand Falls
Zealand Falls is another one of our favorite waterfall hikes in New Hampshire, and is also found in the White Mountain National Forest. Zealand Falls is much different than Sabbaday Falls, as the water cascades down a wide array of broken rocks. This allows you to get up close to the falls, and lets you experience a much different type of waterfall.
Related Articles
Explore New Hampshire