The Christmas Lights Road Trip Through Nevada That's Nothing Short Of Magical
Nevada is a state that takes holiday spirit and Christmas cheer to heart. So why not take a "Christmas Lights Road Trip" through the state to see all the wonderful displays of decorations and lights? We've outlined some of the best holiday lights in Nevada along our trip. So pack up your sleigh, or car, and get ready for a magical journey!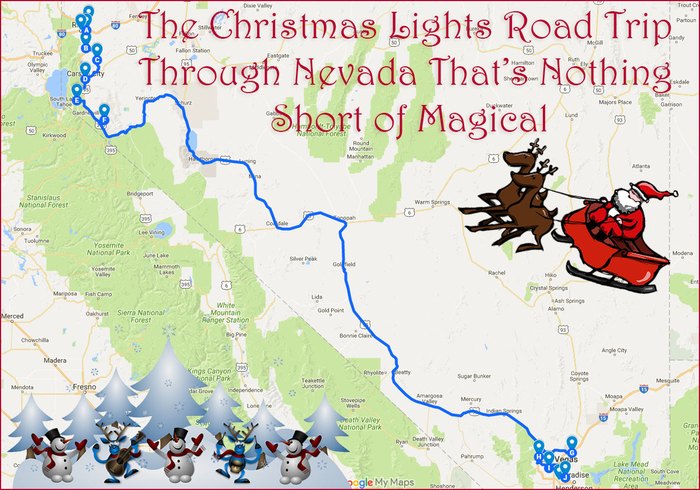 If you loved these holiday light displays, you'll be thrilled to visit the 10 best Christmas towns in Nevada. What are some of your favorite holiday lights in Nevada? Share in the comments!
OnlyInYourState may earn compensation through affiliate links in this article.
Nevada: A Magical Christmas Destination
October 17, 2022
What are the best holiday winter festivals in Nevada?
Nevada's climate ranges from deserts to forests and makes for a variety of winter festivities. The White Pine Fire and Ice Show in Ely brings together sculptors from all over the state to find out who can create the best holiday ice sculpture. At night, the sky is alight with a dazzling fireworks display. Las Vegas holds a gigantic Chinese New Year celebration with Chinese dragon dances, parades, and delicious food. Reno's annual WinterFest is the largest holiday festival in the city. With ice skating on the Greater Nevada Field stadium, a festive train ride, and photos with Santa, it's something for the entire family to enjoy.
What are the most magical Christmas towns in Nevada?
While Las Vegas has a ton of spectacle, there are many other towns in Nevada that become lovely places of holiday cheer. The Carson Valley Christmas Kickoff in Gardnerville has an amazing lights display, warm cider and hot cocoa, and fireworks, and the kids will love riding in a horse-drawn wagon. Carson City has an annual Silver & Snowflakes Festival of Lights where the capitol building and other government buildings are adorned with sparkling Christmas lights. Live entertainment is on hand as well as a lighting of the tree and you can visit with The Grinch and Santa Claus.
What are the holiday happenings that Nevada locals love to do?
Nevadans have so many fun ways of celebrating the holidays. Few things are as fun to do as sledding, and the whole family will enjoy snow tubing at Lee Canyon. The whole family will have an amazing time on a Polar Express train ride with Nevada Northern Railway. Departing from Ely, the train heads north, and then they throw the Magic Switch and the train is transported to the North Pole where Santa will hop on board to talk with everyone on the train. Best of all, it's wheelchair accessible so no one has to miss out!