The Stunning Nevada Drive That Is One Of The Best Road Trips You Can Take In America
Nevada is an impossibly scenic state covering a wide and astonishing variety of sights. It would be difficult to fit all of the scenic places in Nevada in one excursion, so for most of this trip, plan on hugging Route 89 in the southern region of Nevada. From green forests to red rock formations, this is one scenic road trip that will take you on a journey through rare art displays and fascinating historical locations. So, gather up some snacks and good tunes and get ready to hit the road! This is a journey through some of the most amazing attractions (man-made and natural) the Silver State has to offer.
Here is the suggested route for our scenic road trip in Nevada. Feel free to customize your road trip via the Google Map itinerary!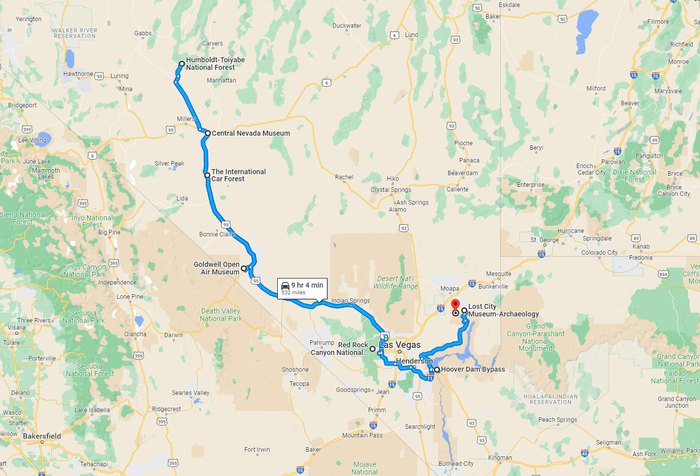 With so much to see and do in Nevada, it can feel overwhelming without a plan. Explore a mix of natural wonders and creative human endeavors Nevadans are proud to call their own. Experience so much of what the great state of Nevada has to offer, and you won't be disappointed!
Want more road trip options? There's plenty more to see! Click here for 8 Unforgettable Road Trips in Nevada.
OnlyInYourState may earn compensation through affiliate links in this article. As an Amazon Associate, we earn from qualifying purchases.
More to Explore
Scenic Places in Nevada
What are the most scenic places in Nevada?
Nevada is so much more than the bright lights of Las Vegas; natural wonders and immense scenic splendor abounds in the Silver State. In addition to the scenic destinations on the above road trip, here are some other super scenic places in Nevada:
Valley of Fire State Park.

In addition to being the most visually stunning Nevada State Park, it's also the state's oldest. The Civilian Conservation Corps began work on the land in 1933 and it was officially designated a state park in 1935. During your first visit, you'll instantly understand why the park received its name. Consisting of nearly 46,000 acres, vibrant, violently red rock formations stretch for as far as the eye can see. It's an astonishing spectacle to witness with your own eyes; a moving experience you won't soon forget.

Fly Geyser. Located on a 3,800-acre parcel of land in the Black Rock Desert that is owned by the Burning Man Project, Fly Geyser is a sight unlike anything you've seen before. The geyser itself flaunts flamboyant shades of red, yellow, and green while shooting hot water up to five feet in the air. The geyser's peculiar coloring is caused by calcium carbonate deposits that grow several inches every year; as they've been growing for several decades now, visitors can witness three large mounds that are nearly six feet tall. While technically a man-made wonder

 (the geyser was created in 1964 when a geothermal power company drilled a test well into the ground), Fly Geyser is no less magnificent than its Mother Nature-made brethren.

Lake Tahoe. Lake Tahoe is an American icon. Easily one of the prettiest and most popular lakes in the country, Lake Tahoe sits on the state line between California and Nevada, surrounded by the majestic, snowcapped peaks of the Sierra Nevada Mountains. Located at 6,225 feet above sea level, Lake Tahoe is the highest alpine lake in the country, as well as the second deepest. But superlatives aside, it's absolutely ravishing. The cold, crystal-clear waters of this lake are mesmerizing, and really provoke a sense of awe and wonder. Lake Tahoe is often lauded as one of the most beautiful places in the country

, and it really does deserve each and every word of praise.

Death Valley. Another natural wonder NV shares with CA, Death Valley National Park is an otherworldly wonder. Situated on the border of California and Nevada, Death Valley is a land of extremes: it's the hottest, driest, and lowest-elevation national park in the country. Unique geographical features such as the salt flats, which stretch for 200 square miles, seemingly endless sand dunes, and sedimentary badlands form the landscape of Death Valley, creating a landscape that's wholly unique and undeniably beautiful. Oh -- and the stargazing in Death Valley? Out-of-this-world!
Related Articles