You'll Definitely Want To Soak In The Hot Springs At This Old Ghost Town In Nevada
Editor's note: It has come to our attention that the hot spring featured below is on private property and unfortunately is not open to the public. We ask that our readers please be respectful of the owner's wishes and simply admire the hot spring from the lovely photos below.
If you love abandoned places, then the Silver State is the place to be. Our state is full of the creepy remains of old towns and buildings that were abandoned long ago to wither in the desert. A great example of this is the town of Warm Springs Nevada. It's located in the middle of nowhere, right along the Extraterrestrial Highway. It's completely surrounded by nothingness and Tonopah is at least 50 miles away. Just a few buildings in this town remain, but that's not the main attraction: hiding in this ghost town is an amazing abandoned hot spring. The turquoise-blue pool is like a little oasis in the middle of the desert. The next time you're traveling along State Route 375, you'll definitely want to stop for a soak (though nowadays you can't do so, bummer). Check it out: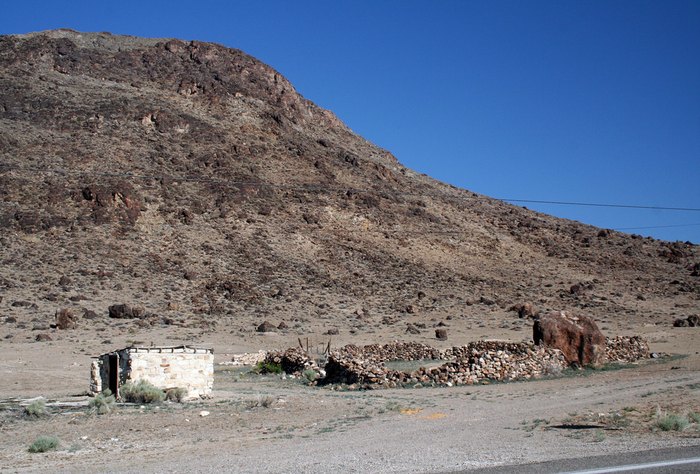 Did you know about this awesome abandoned hot spring in Nevada? Our state is full of magical hot springs like this one – more than 300, actually, making it the state with the most hot springs (yep, more than even Wyoming). Check out one of the most epic natural hot springs in Nevada while you're here, and check out this fascinating video of Warm Springs by YouTuber i_lika_doda_chacha:
OnlyInYourState may earn compensation through affiliate links in this article.
More to Explore
Warm Springs, Nevada
Are there any warm springs in NV?

 
There are an amazing number of hot springs in Nevada and it only makes sense that some of them are more warm than hot. Some of the best warm springs in NV include:  
2. Where is Nightingale Hot Springs located?  
Nightingale Hot Springs is one of many hot springs in NV. It can be found just off of Interstate 80, about 50 miles east of Reno. It's one of the lesser-known hot springs in NV and just as beautiful as all the rest (though if you want to soak, you might want to check the temperature of the water first).  
3. How many hot springs in NV are there?  
At the time of this writing, there are more than 300 known hot springs in NV! Some are too hot to touch, others are just warm enough to feel like a pleasant bath. Some notable hot springs in Nevada include:  
Related Articles