18 Best Hikes In Nebraska: The Top-Rated Hiking Trails To Visit In 2023
When it comes to finding the best hiking destinations in the United States, Nebraska may not be the most obvious choice. However, the state is actually home to some incredible trails that are worth exploring. In fact, there are 18 hikes in Nebraska that are considered the best of the best. These top-rated hiking trails offer breathtaking views, challenging terrain, and a chance to connect with nature. If you're looking for a new adventure in 2023, consider checking out one of these best hikes in Nebraska!
Best Hikes in Nebraska
Nebraska offers some fantastic hiking opportunities, and here are a few trails that stand out as the best. Platte River State Park Trail Loop is an excellent option for those looking for a moderate hike with beautiful views of the Platte River. Schramm Park Nature Loop is another great choice, with a variety of terrain and stunning scenery throughout. And if you're up for a challenge, the Zorinsky Lake Trail Full Loop is a must-try, with over seven miles of hiking and views of the lake.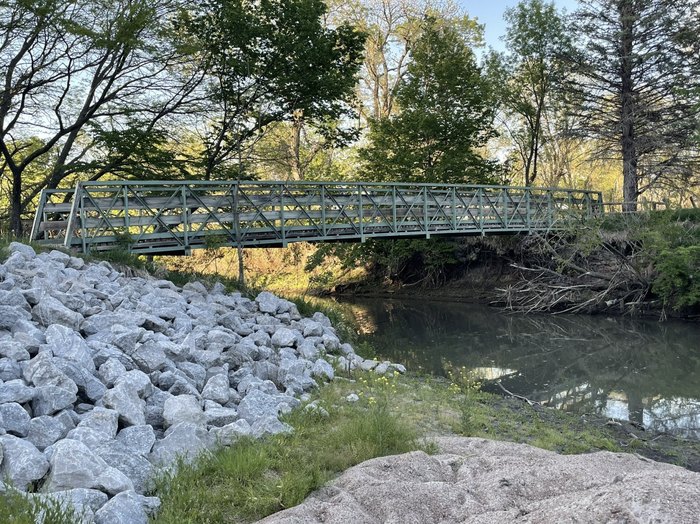 Best Short & Easy Hikes in Nebraska
One of our favorite short and easy hikes is the Schramm Park Short Loop, which offers a suspension bridge and beautiful scenery. Another great hike is the Bob Kerrey Pedestrian Bridge, which spans the Missouri River and provides breathtaking views of the Omaha skyline. Finally, the Red Cedar Trail is an easy hike that takes you through beautiful wooded areas and a picturesque creek.
Hardest Hikes in Nebraska
Nebraska may not be known for its mountains, but that doesn't mean there aren't some challenging hikes. One of the toughest is the Hawthorne to Marsh to Missouri Loop, which offers views of the Missouri River. The Rock Bluff Run Trail is another option, with rugged terrain and a steep ascent to the top of the bluff. Finally, the Oak Creek Trail may be easier than the others, but it's no less challenging, with its 12.8-mile long trek.
Best Waterfront Hikes in Nebraska
One of the best waterfront trails is the Zorinsky Lake East Loop, which offers views of the lake and is family-friendly. If you're looking for a longer hike, the Wehrspann Lake Full Loop is a great option, with miles of scenic trails to explore. And for a more laid-back experience, the Flanagan Lake Trail is a perfect choice, with its easy terrain and tranquil surroundings. All three of these hikes offer something unique, making them some of the best waterfront hikes in Nebraska.
Best Winter Hikes in Nebraska
Winter can be a great time to explore the great outdoors in Nebraska. If you're a fan of hiking, there are plenty of trails to choose from. Some of the best winter hikes in the state include the L.E. Ray Lake Loop, Lake Seldom Trail, and Iron Horse Trail Lake Loop. These trails offer stunning views of the winter landscape and are a great way to get some exercise and fresh air during the colder months.
Best Hikes near Lincoln
If you're looking for great hiking options in the Lincoln area, you won't want to miss out on the Wilderness Park Trails, Holmes Lake Loop, or Pioneers Park Trails. Each of these trails offers a pretty view and a chance to get out and experience nature not too far from the city.
Have you had the chance to explore any of the hiking trails in Nebraska? If so, do you think any stand out as the best for Nebraska hiking? We're curious to hear your thoughts on the best hiking trails in Nebraska, so share your recommendations with us!
Whether you're looking for miles of trails with cool rock formations and geological formations or a boardwalk hike full of wetlands and wildflowers, this hub has everything you'll need, and be sure to Try AllTrails+ For Free!
OnlyInYourState may earn compensation through affiliate links in this article. As an Amazon Associate, we earn from qualifying purchases.
More to Explore
The Best Hikes In Nebraska
Does Nebraska have good hiking trails?
Nebraska's best hiking trails include:
Toadstool Geological Park Trail in Harrison
North Overlook Trail in Scotts Bluff National Monument
Saddle Rock Trail
Sandhills Journey Scenic Byway Visitors Center
Lover's Leap and East Red Cloud Buttes Loop in Crawford
Canyon Loop via Cliffs Picnic Area in Nebraska National Forest
Cowboy Trail: Norfolk to Valentine
Oregon Trail
Louisville State Recreation Trail
MoPac Trail: Springfield to South Bend in Chalco Hills Recreation Area
Niobrara Loop Trail
Chadron State Park 6 Mile Loop
Gering 'U' Street Pathway
Lover's Leap and Fort Robinson State Park Double Loop
Lake Ogallala Trail
Indian Cave State Park Loop
Smith Falls Trail in Smith Falls State Park
What are the best months to hike in Nebraska?
The best time to hike in Nebraska is during the fall season, from September to October, when the landscape is adorned with vibrant foliage, and the weather is cool and pleasant. Spring, from April to May, is also a popular time with moderate temperatures, but it can be prone to unstable weather and heavy rainfall. Winter, from December to February, brings intense cold with temperatures staying below freezing.
Related Articles
Explore Nebraska
Featured Addresses