This Haunted Road Trip In Northern Missouri Is Terrifying
Anyone who is a fan of all things scary dreams about going on a haunted road trip in Missouri.  This trip has been designed just for you. In addition to the main destinations, it also includes some optional side trips if you are feeling really adventurous.  Although we start and end in St. Louis, simply pick up the tour at any point and complete the circular tour any way you like.  Are you ready? Let's go!
Here's the Google Map for this haunted road trip. It's easily customizable, so you can tailor it to your needs, interests, and timeframe.
Please note: Before you hit the road, always call ahead to confirm that each location is open (if applicable) and its hours.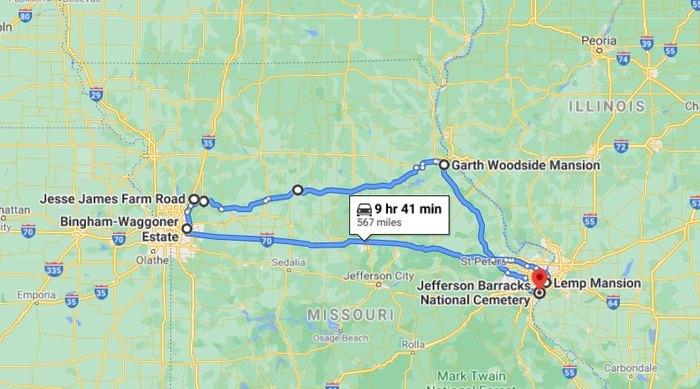 Have you visited any of the locations on the haunted road trip in Missouri?  Do you want to?  Share your comments and ghost hunting adventures in the comments below. Up for some more spine-tingling stories? Here are 23 Missouri hauntings that will probably give you chills.
OnlyInYourState may earn compensation through affiliate links in this article.
Address: Lemp Mansion, 3322 Demenil Pl, St. Louis, MO 63118, USA
Address: 11069 New London Gravel Rd, Hannibal, MO 63401, USA
Address: Brunswick, MO 65236, USA
Address: The Elms Hotel & Spa - Destination by Hyatt, 401 Regent St, Excelsior Springs, MO 64024, USA
Address: Jesse James Farm Rd, Kearney, MO 64060, USA
Address: Downtown Kansas City, Kansas City, MO, USA
Address: Bingham-Waggoner Estate, Bingham-Waggoner Home, 313 W Pacific Ave, Independence, MO 64050, USA
Address: Jefferson Barracks National Cemetery, 2900 Sheridan Rd, St. Louis, MO 63125, USA
Haunted Road Trip In Missouri
February 01, 2021
What are the most haunted places in Missouri?
If you love the paranormal, you are in luck. You'll find quite a few haunted places in Missouri, and they're all worth a visit. Are you really brave? Lace up your hiking boots for a trek along the haunted Rock Hollow Trail. Many also know the road as Zombie Road, and it travels on land that was once owned by Native Americans, who are said to haunt the trail to this day. Don't be too surprised, for example, if you see ghostly figures or glowing orbs. The apparition of a woman, who is said to have been hit by a train, is also said to visit the trail at night.
What are the creepiest cemeteries in Missouri?
Cemeteries are usually tranquil places where we can visit those we have lost. However, some of those scary places in Missouri are actually its cemeteries – haunted cemeteries. You'd think, for example, that Peace Church Cemetery in Joplin would be, well, peaceful. It holds the remains, however, of serial killer Billy Cook, who was executed in San Quentin in the mid-20th century. His may be the apparition that is seen in the cemetery. Some visitors even tell of leaving the cemetery with fresh scratches on them, but they have no idea how they got them. This is definitely one of the creepiest cemeteries in Missouri.
What are the creepiest places in Missouri?
We have our fair share of creepy places in Missouri. Visitors to Mound Grove Cemetery have, in fact, been followed by a woman in a nightgown. She often follows visitors through the cemetery. However, if you go to the gate, she won't follow you through it. If you're really brave, you might want to book a night, or a few, at The Hobo Hill House in Jefferson City. Don't be too surprised if you see a man in a top hat during your stay; if the TVs turn off and on on their own; and if you hear weird noises.