This Haunted Road Trip Will Lead You To The Scariest Places In Missouri
A road trip is often just the thing we need to add a bit of excitement to our normal schedules. Have you thought about hitting the highway to visit some of the scariest places in Missouri? Whether you're a tried and true believer in the paranormal or you just find it interesting, you'll love this road trip to some of the most haunted places in Missouri. (Along the way, you'll learn some of the most intriguing Missouri ghost stories, too, which just might keep you up at night.)
Ready? Click here for detailed map. You can customize the map to your own needs, interests, and timeline, too.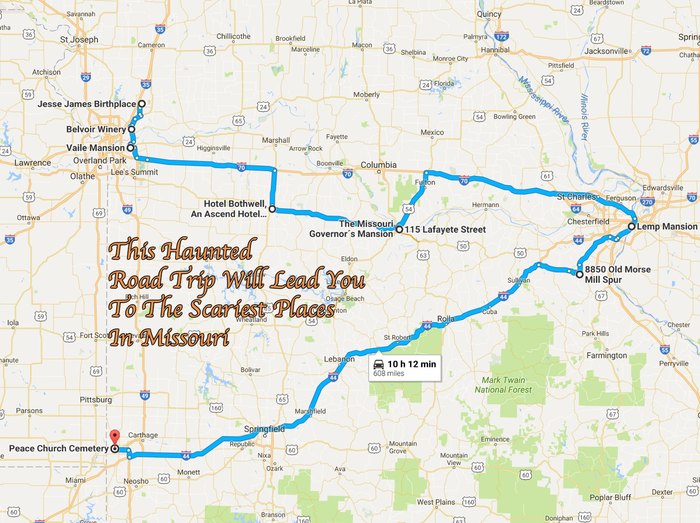 What are your favorite creepy road trips in Missouri? Do you believe these chilling Missouri ghost stories? Join the conversation in the comments! Up for even more spine-tingling thrills and chills? You can't go wrong when you visit some of the most haunted places in Missouri on another epic road trip.
OnlyInYourState may earn compensation through affiliate links in this article.
Address: Jesse James Birthplace, 21216 Jesse James Farm Rd, Kearney, MO 64060, USA
Address: Belvoir Winery and Inn, 1325 Odd Fellows Rd, Liberty, MO 64068, USA
Address: Vaile Mansion, 1500 N Liberty St, Independence, MO 64050, USA
Address: Hotel Bothwell Sedalia Central District, Ascend Hotel Collection, 103 E 4th St, Sedalia, MO 65301, USA
Address: Missouri State Penitentiary, 115 Lafayette St, Jefferson City, MO 65101, USA
Address: Missouri Governor's Mansion, 100 Madison St, Jefferson City, MO 65101, USA
Address: Lemp Mansion, 3322 Demenil Pl, St. Louis, MO 63118, USA
Address: Morse Mill Hotel, 8850 Old Morse Mill Spur, Hillsboro, MO 63050, USA
Address: Peace Cemetery, Garrison, MO 65657, USA
Creepy Road Trips In Missouri
July 28, 2021
What are the most haunted places in Missouri?
If you're a fan of the paranormal, you have quite a few chances to experience it right here in Missouri. You just have to decide which haunted places in Missouri to head to first. If you're really brave, check into the Walnut Street Inn in Springfield. It's said to be haunted by the spirit of Catherine McCann who has been known to shoo people out of the rooms and rip the blankets off of the beds. A stroll through Old Lorimier Cemetery in Cape Girardeau, the final resting place of 1,000 Civil War soldiers, might result in you feeling a tap on your shoulder. When you turn around…you're completely alone.
Are there any Missouri ghost stories that everyone knows about?
Light a roaring fire and gather round for an evening of telling ghost stories. After all, we have no shortage of Missouri ghost stories that will send chills down your spine. For one of the most chilling ghost stories in Missouri, we turn back the pages of time to 1862. Union soldiers made their way to what is now Stephens College in Columbia. A soldier and a student fall in love, which leads to great scandal. The soldier, tried and convicted of spying, is sentenced to death. When learning the news, the student takes her own life. If you walk the halls of Stephens College today, you may just see her spirit as it wanders aimlessly, looking for her love.
What are the scariest places in Missouri?
On the hunt for the scariest places in Missouri? Rest assured, we have plenty of 'em. How about heading out on a day trip to the spookiest places in Missouri? Your journey begins at Mound Grove Cemetery in Independence. Stroll through the cemetery, where you might be followed by a woman in a nightgown. If that doesn't sufficiently creep you out, move on to your next stops – Belvoir Winery & Inn in Liberty, Jesse James Farm & Museum in Kearney, and The Elms Hotel in Excelsior Springs. Then, prepare to run into the spirits of the former prisoners at Missouri State Penitentiary in Jefferson City.