The Fairytale Road Trip That'll Lead You To Some Of Missouri's Most Magical Places
Do you ever feel like you've stepped into a fairy tale? Missouri's home to so much gorgeous scenery that it's hard not to set our imagination on fire. Today's fairy tale road trip will take you to some of the most magical places in Missouri. This epic adventure spans just over 450 miles with a base drive time of 8.5 hours. (Don't forget to add time to visit each destination.)
Here are the Google Map directions for this fairy tale road trip. Easily customize them to meet your needs, interests, and timeframe.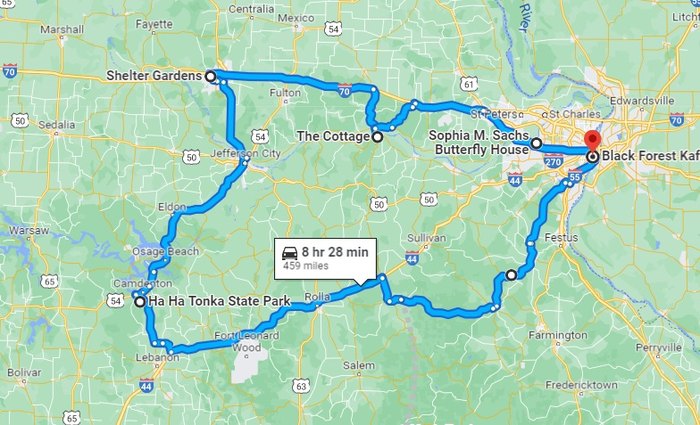 What are some other magical places in Missouri that you love? Let us know in the comments! Have you ever driven along historic Route 66 in Missouri when you've been in search of an adventure? It's worth the drive!
Address: Black Forest Kaffee Haus, 2900 Sidney St, St. Louis, MO 63104, USA
Address: Washington State Park Road, Washington State Park Rd, Kingston Township, MO 63020, USA
Address: Mark Twain National Forest, 401 Fairgrounds Rd, Rolla, MO 65401, USA
Address: Ha Ha Tonka State Park, 1491 Missouri D, Camdenton, MO 65020, USA
Address: Shelter Gardens, 1817 W Broadway, Columbia, MO 65218, USA
Address: The Cottage, 1185 State Hwy H, Hermann, MO 65041, USA
Address: Sophia M. Sachs Butterfly House, Located in, 15050 Faust Pk, Chesterfield, MO 63017, USA
OnlyInYourState may earn compensation through affiliate links in this article.