The Hiking Trail Hiding In Missouri That Will Transport You To Another World
From caves to mountains, there are many natural wonders for outdoor enthusiasts to explore in Missouri. If you are looking for great views and ancient geological rock formations, make your way to Hughes Mountain near Ironton. According to the Missouri Department of Conservation, "The rhyolite of Hughes Mountain formed from ancient lava flows around 1.4 billion years ago." You can see these ancient rock formations today at the end of the Devil's Honeycomb Trail, a relatively easy 1.6-mile hike to the top of the mountain.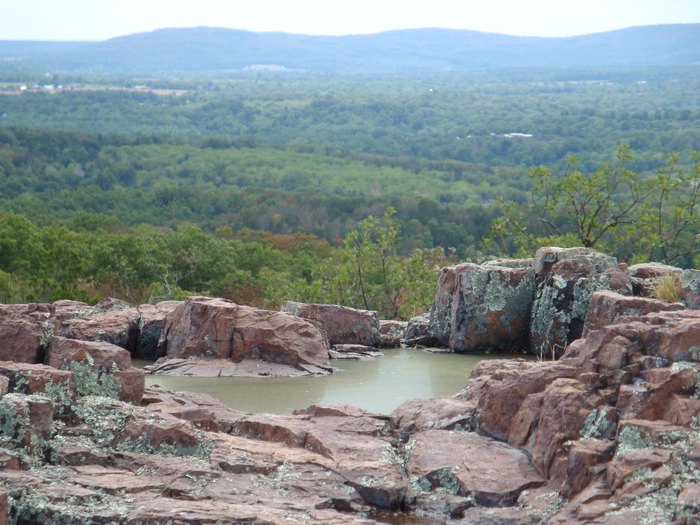 If you're looking for more beautiful hikes, check out these 10 amazing Missouri hikes under three miles.
Have you hiked Devil's Honeycomb Trail? Do you have a favorite hidden hiking trail in Missouri?  Let us know in the comments below.
OnlyInYourState may earn compensation through affiliate links in this article.
Address: Devil's Honeycomb trailhead, Hughes Mtn, MO, Irondale, MO 63648, USA
Hidden Hiking Trail In Missouri
August 09, 2022
What are some bucket list-worthy hidden gems in Missouri?
We could spend our entire lives exploring Missouri, and we probably wouldn't see everything. That makes having a bucket list so important, so we don't miss the sights we really want to see. We've got quite a few hidden gems in Missouri that deserve a prominent spot on your bucket list, too, like Lone Elk Park. Whether you walk or you drive through this one-of-a-kind Missouri park, you'll get to see wildlife up close. (Take precautions, and never get too close to wildlife.) The park is home to elk, deer, and bison, among others. The Mine at Bonne Terre is another must-visit. Join a guided boat tour of the underground attraction that boasts absolutely stunning blue water. The largest manmade cave in the world also happens to house the world's largest scuba diving venue. Be sure to add Rock Bridge Memorial State Park in Columbia to your bucket list, too. It is home to a gorgeous natural bridge.
What are the best trails in Missouri?
Best really is a subjective term, but we can probably all agree that we have some downright fabulous hiking trails in Missouri. You can pretty much find whatever you're looking for when it comes to hiking in Missouri, including some absolutely gorgeous trails that are easy AND tally less than five miles. Old Kate Trail, for example, is perfect for hikers of all ages and is the perfect way to introduce the little ones to hiking. At just under a mile, it leads to a gorgeous waterfall. Drover's Trail meanders three miles through Prairie State Park, but you'll be too busy soaking up the scenery and marveling at the wandering buffalo to pay much attention to how far you've traveled. For absolutely gorgeous views of a sapphire spring, follow the 1.5-mile Spring Trail at Ha Ha Tonka State Park.