Take A Thrilling Road Trip To The 6 Most Abandoned Places In Missouri
Road trip! Can you think of a better way to spend a few free days than out on the open road, headed to some of the most abandoned places in Missouri? If that sounds like your kind of fun, gas up the car, pack some snacks, and buckle up for an unforgettable road trip to six abandoned places in Missouri. This Missouri road trip will showcase some of the most haunted places and (to some) eyesores that Missouri has to offer.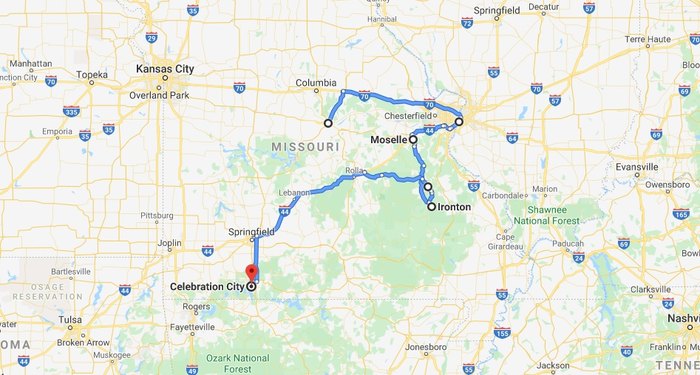 1. Missouri Penitentiary – Jefferson City
Missouri Penitentiary closed in 2004 after having been in service since 1836. In the mid-1900s, 39 prisoners were executed using the penitentiary's gas chamber. Today, you can set off on a guided private or public tour of the prison. Several types of tours are available, including paranormal tours, photography tours, and the two-hour history tour. Learn more or book your tour by visiting the official Missouri Pen Tours website.
2. Lemp Brewery- St. Louis

The abandoned Lemp Brewery boasts a long and storied history that dates back to 1840, later closing during prohibition. In the 21st century, the former brewery serves as one of the scariest haunted houses in St. Louis. The Lemp Brewery Haunted House, open during the Halloween season, features a terrifying underground experience that you really have to see to believe. Visit its official website to learn more about Lemp Brewery Haunted House.
3. Ghost Town – Moselle

Our next stop takes us to the ghost town of Moselle, once a bustling town that dates back to 1849. However, in the ensuing decades, the town began its slow demise, turning into a ghost town. You can see the abandoned bank, library, shops, and homes that are all still standing in this small ghost town in Missouri off of AH road.
4. Old St. Mary's Hospital – Ironton

Due to poor economic conditions, this hospital run by the Sisters of St. Mary's originally opened in 1926 and shut in just eight short years. The hospital re-opened in 1934 and then closed for the final time in 1975. Though decrepit and crumbling, the building's foundation and structure still remain. Neighbors tell of hearing strange noises emanating from the hospital. Some have even told of seeing shadowy figures on the grounds of the former hospital. Plus, if you've never visited something as spooky as an abandoned asylum in Missouri, you haven't lived.
5. Abandoned Railroad Building – Irondale

Ironton Railroad originally opened in 1886. Today, this depot sits abandoned, but you can see still the tracks on which trains used to travel! You can also see what's left of the Iron Furnace Company Store and Warehouse. It's pretty cool, even if it might not sound like it should be.
6. Celebration City – Branson
Celebration City in Branson could never catch a break. First opened as "Branson USA" in 1999, it prematurely closed in 2001. Herschend Family Entertainment Company purchased the park in 2002 and reopened it in 2003 as "Celebration City." Unfortunately, it didn't pull in as much profit as was expected and closed in 2008. The rides, ticket booths, and buildings still stand in this abandoned park.
Have you been to any of these abandoned places in Missouri? Or, do you have an abandoned spot you'd like to add to this road trip? Let us know in the comments!
And if you've not visited Times Beach yet, you're in for a delightfully eerie adventure.
OnlyInYourState may earn compensation through affiliate links in this article.
Abandoned Places In Missouri
January 23, 2020
What is the most famous abandoned place in Missouri?
Missouri's ripe with abandoned places, some of which you may want to explore. If you're up for a scenic hike, set off on the Castle Trail that will lead you to the remnants of the abandoned Ha Ha Tonka Castle at Ha Ha Tonka State Park. The ruins may just be the most famous abandoned place in Missouri.
What is the most haunted place in Missouri?
Are you ready to visit some of the most haunted places in Missouri? Check into the Walnut Street Inn in Springfield, for example, that's said to have several haunted rooms. You might just meet a woman, all decked out in Victorian garb, in the Rosen Room. Don't be too startled if she tells you you're in her room before she disappears into the night.
Lift your glass in a toast to Port Cape Girardeau Restaurant and the friendly spirit with whom you might cross paths. You may see a woman, in Victorian clothing, ringing the bar's nautical bell. Listen carefully, too, as you may also hear her footsteps as she paces back and forth.
Can I go ghost hunting in Missouri?
If you want to get a firsthand look at some of the creepiest places in Missouri, set off on a ghost hunt. You have two options for ghost hunting – embark on a haunted road trip or join a ghost hunt lead by seasoned paranormal investigators. If you prefer ghost hunting on your own, hit the road on this Northern Missouri Haunted road trip. You'll go to such eerie spots as the Lemp Mansion in St. Louis and the Elms Hotel in Excelsior Springs.
However, if you'd like the guidance of a seasoned paranormal investigator, you can do that, too. Join Ghost Hunts USA, for example, on a chillingly delightful overnight tour of Missouri State Penitentiary.
OnlyInYourState may earn compensation through affiliate links in this article.