Mississippi's Milkshake Bar Is What Dreams Are Made Of
If you're a fan of milkshakes, we've got some good news for you. The popular milkshake bar, The Yard, has a couple locations right here in Mississippi! That's right; Mississippi is home to The Yard, which is known for its over-the-top milkshakes. Keep reading to find out everything you need to know about this must-visit Mississippi milkshake bar.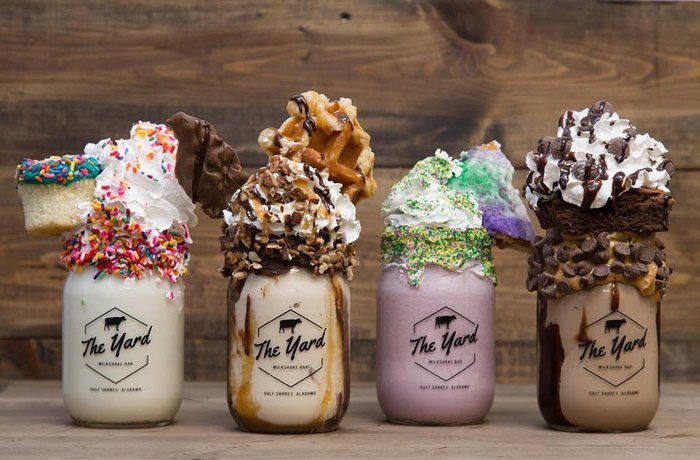 Remember, The Yard has several locations throughout the nation as well as a couple in Mississippi. For more information, visit The Yard's website. or Facebook page.
So, ever been to The Yard? If so, what'd you order? How was it? Know of another incredible milkshake bar in Mississippi? Or maybe you know where to get the best milkshakes in Mississippi? Tell us in the comments section.
This isn't the only place in Mississippi with out-of-this-world milkshakes. Click here to read about another.
Address: 3840 Promenade Pkwy, D'Iberville, MS 39540, USA
Address: 113 Dogwood Blvd, Flowood, MS 39232, USA
Address: 3002 Hardy St, Hattiesburg, MS 39401, USA
Mississippi Milkshake Bar
February 13, 2021
Where else can I get specialty milkshakes in Mississippi?
If you're craving an over-the-top milkshake in Mississippi, you're in luck because the state is home to several eateries, which serve up shakes that are anything but typical. One such place is Chunky Chuck's in Columbus, an old-fashioned ice cream parlor that's most known for its over-the-top shakes, which come piled high with treats, like cookies, candy, and more. Ed's Burger Joint in Hattiesburg is another contender for the state's most extreme milkshakes. As the name implies, the eatery serves up burgers; however, the shakes, which come topped with a slew of sweets, are truly the star of the show at Ed's.
What are the best ice cream shops in Mississippi?
When it comes to must-visit ice cream shops in Mississippi, Borroum's Drug Store and Soda Fountain in Corinth definitely fits the bill. Established in 1865, it's the state's oldest operating drug store and soda fountain. A step inside is like stepping back in time, thanks in part to the eatery's undeniable retro vibe. But there's more to Borroum's than incredible nostalgia. It's best known for its slugburgers and equally as famous shakes. Brent's Drugs is another authentically retro soda fountain worth a visit. A Jackson staple, Brent's Drugs opened in 1946 as a pharmacy and soda fountain. The pharmacy was eventually eliminated, but the soda fountain has remained — and retained its vintage vibe. And according to USA Today, Brent's serves up the best milkshakes in Mississippi.
Where else can I satisfy my sweet tooth in Mississippi?
If you've got a sweet tooth to satisfy, Shug's Cookie Dough and Candy Bar in Laurel is a great place to start. Like a sweet dream brought to life, the shop is brimming with treats of all sorts, from fresh-baked pastries and old-fashioned candies to milkshakes and more. The Tatonut Donut Shop in Ocean Springs is another a trek-worthy spot for those seeking a sweet treat. A longtime favorite, the shop's signature donuts are consistently dubbed "the best in Mississippi," which may have something to do with the potato flour used to make them. Make sure to check The Tatonut Donut Shop's Facebook page for temporary closures prior to visiting.
Address: 3840 Promenade Pkwy, D'Iberville, MS 39540, USA
Address: 113 Dogwood Blvd, Flowood, MS 39232, USA
Address: 3002 Hardy St, Hattiesburg, MS 39401, USA