This Natural Wonders Road Trip Will Show You Mississippi Like You've Never Seen It Before
Have you ever asked yourself, "Are there natural wonders in Mississippi?" If you have, the answer is quite simple. When it comes to natural wonders, Mississippi is definitely not lacking. The state is full of incredible sites worthy of the distinction. These breathtaking sites should be seen at least once, and just to make sure you don't miss a thing, we've compiled this list of the most impressive natural wonders in Mississippi. In fact, we've even created a Google map for you. What's great about this road trip loop is that it can easily be altered to suit your needs. So, what are you waiting for? Let's go!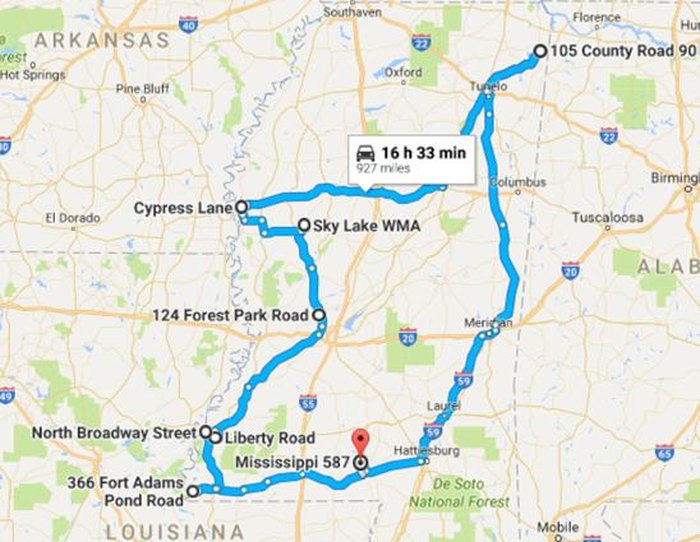 Which of these impressive natural wonders in Mississippi have you seen up close and in person? What other Mississippi natural wonders would you add to this list? Please feel free to let us know in the comments below.
Discover even more natural wonders in Mississippi!
OnlyInYourState may earn compensation through affiliate links in this article.
More to Explore
Mississippi Natural Wonders
What are three of the most beautiful places in Mississippi for nature lovers?
Mississippi is filled with many beautiful places. From lush gardens and scenic parks to wildlife refuges and stunning waterfalls, there's a little something for everyone who loves nature. Listed below are three beautiful places in Mississippi that belong at the top of everyone's outdoor bucket list.
The Noxubee National Wildlife Refuge, which spans approximately 48,000 acres, is located in Noxubee, Oktibbeha, and Winston counties. Established in 1940, its primary purpose is to be used as a refuge and breeding ground for migratory birds, in addition to other types of wildlife.
2. Dunn's Falls
Dunn's Falls, which is nestled inside Dunn's Falls Water Park in Enterprise, is a man-made waterfall that was created in the 1850s. It was used to power the factory of J.B. Stetson, a famous hatmaker. In addition to Dunn's Falls, visitors of the water park can also tour the 19th-century mill that's situated onsite.
3. Monmouth Gardens
Monmouth Historic Inn is located in Natchez. Its beautiful gardens cover nearly 30 acres and feature a pond, a bridge, a fountain, and more. The Monmouth Gardens also boast lots of lush greenery, colorful flowers, and a serene atmosphere.
What's one of the most amazing natural wonders to visit in Mississippi with the entire family?
There's something truly special about family day trips. If you and your family have been wanting to get away for a day trip but have no idea where to go, no worries! There are many natural wonders in Mississippi that are perfect to check out with the entire family. One of them is the Petrified Forest in Flora. This outdoor attraction features 36 million-year-old trees that have been turned into stone through the amazing process of petrification. In addition to exploring the Petrified Forest, visitors will also enjoy checking out the museum, which includes a variety of collections.
Related Articles
Explore Mississippi