The Hidden Beaches Road Trip That Will Show You Mississippi Like Never Before
In terms of great beaches, Mississippi is definitely not lacking. Not only does that state's southern coast border the Gulf of Mexico, but coastal residents also have access to several barrier islands, which are perfect for beach-day getaways. However, just because these are the most popular, it doesn't mean they're the best beaches in Mississippi. In fact, there are some pretty incredible hidden beaches in Mississippi that are perfect for cooling off during the hot days of summer – and that's where this road trip comes in.
Spanning 698 miles, the entire trip will take just under 12.5 hours. Along the way, you'll find some of the best beaches in Mississippi, many of which include campgrounds, so you can easily extend the trip to suit your needs. (Check out this interactive Google map link to edit the map below.)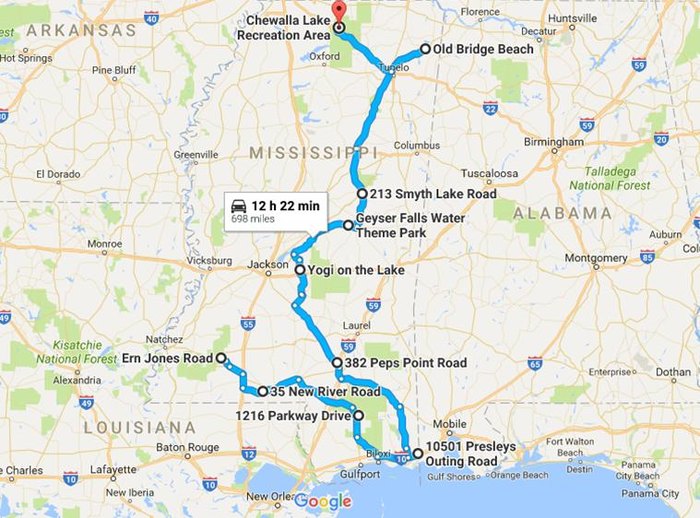 Ever visited any of the hidden beaches in Mississippi listed above? Know of another hidden beach that should be on this list? Tell us in the comments section!
If you enjoyed this, be sure to check out these "Beachfront Restaurants In Mississippi That Are Out Of This World."
OnlyInYourState may earn compensation through affiliate links in this article.
More to Explore
Best Beaches In Mississippi
What are the prettiest beaches in Mississippi?
With the Gulf of Mexico serving as the state's southern border, it's only natural to think of the Gulf Coast when looking for the prettiest beaches in Mississippi. And while the Gulf Coast does feature miles of beautiful white sand, the water isn't necessarily the cleanest – unless however, you head out to one of the barrier islands, such as Ship Island or Horn Island. Luckily, there are beautiful beaches scattered throughout the state. In fact, some of the best beaches in Mississippi aren't anywhere near the coast. If you're looking for the beach with the clearest water in Mississippi, a visit to Blue Lagoon is a good choice. Not only is the water clear, but the man-made swimming hole is surrounded by white sand, making for a tropical paradise. For the best sandy beach in Mississippi, a visit to Old Bridge Beach is a must. It's situated on Bay Springs Lake and is surrounded by a gorgeous stretch of white sand. Though located in a small town, it's part of a recreation area, so it includes plenty of amenities, such as picnic tables, grills, and a volleyball court.
What are the best beach towns in Mississippi?
Mississippi is home to several great beach towns, but Bay St. Louis and Ocean Springs are among the most popular. Though small, Bay St. Louis has become increasingly popular over the years, and in 2018, landed the 5th spot in USA Today's "Best Coastal Small Town" contest. It's also been named one of the "most hippie" towns in America, thanks to its beachy, laid back vibe, welcoming attitude, and hip art galleries.
Ocean Springs is another can't-miss beach town. Dubbed the "gem of the Gulf Coast," the centuries-old city is loaded with history, beauty, and charm. While visiting Ocean Springs, exploring its downtown is a must. A recipient of the "Great American Main Street Award," the quaint area is home to shops, galleries, and restaurants.
What beaches have the clearest water in Mississippi?
When it comes to beaches with the clearest water in Mississippi, you'll have to head out to the state's barrier islands. Deer Island is the closest; however, you'll need your own boat, canoe, or kayak to access it. Another option is Ship Island. A ferry service, Ship Island Excursions, offers regular transportation out to the island. The boat ride takes about an hour but is totally worth it once get to the island, which features pristine white sand and crystal clear water.
A more inland option for a beach with the clearest water in Mississippi is Merit Water Park. Hiding in the small town of Mendenhall, the 25-acre water park is situated on Rials Creek and features a sand and rock creek-side beach and old-fashioned swimming hole with small waterfalls. Not only is the creek's water pristine, but it's refreshingly cold since the creek is spring-fed.
Related Articles
Explore Mississippi