Here's The Perfect Weekend Itinerary If You Love Exploring Minnesota's Waterfalls
The Land of 10,000 Lakes is blessed with all manner of natural beauty, from the tallgrass prairies and Sioux quartzite of the southwest, the pristine lakes and aspen parklands in the north, as well as bogs, bluffs, and big, bold waterfalls in Minnesota. The fact of the matter is our state is blessed with natural bounty, and there is tons of nature to explore out there. It's almost overwhelming, really. So, let's start small and visit some of the most beautiful waterfalls in Minnesota. You can do it in a single weekend if you follow this itinerary.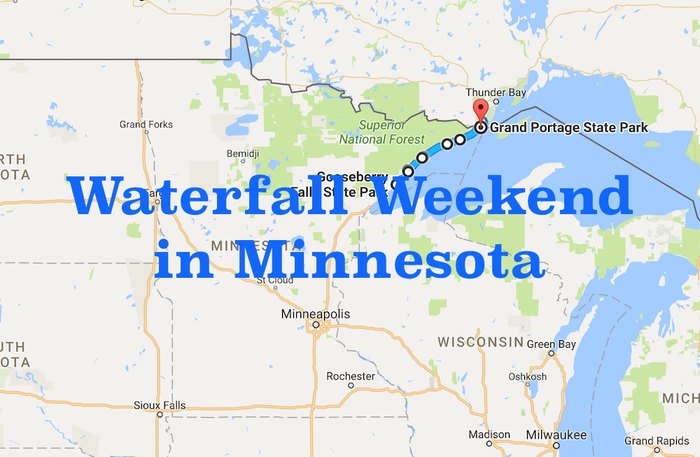 These are just a handful of the stunning waterfalls in Minnesota. Be sure to make a plan to visit some of the other amazing Minnesota waterfalls in the Land of 10,000 Lakes.
What do you think? Does this sound like a road trip you may want to take someday? Are there any other falls in Minnesota we should have included in our itinerary?
OnlyInYourState may earn compensation through affiliate links in this article. As an Amazon Associate, we earn from qualifying purchases.
More to Explore
Waterfalls in Minnesota
What are three of the best waterfall hikes in Minnesota?
There are numerous hiking trails with waterfalls in Minnesota. Listed below are three of our favorites. You'll want to explore them all.
1. Fifth Falls and Superior Hiking Trail Loop
The Fifth Falls and Superior Hiking Trail Loop is a three-mile loop trail at Gooseberry Falls State Park. It has an easy level of difficulty and is mostly used for hiking, road biking, and birding. The months of March through October are the best times to use this trail.
Devil's Kettle, a two-mile, out-and-back trail at Judge C.R. Magney State Park, is a popular trail with a moderate level of difficulty. Many people choose to use this trail for hiking, camping, and birding. It's also a great trail to explore all year long.
Located at Minnesota's Grand Portage State Park is the scenic High Falls Trail. This 1.1-mile, out-and-back trail has an easy level of difficulty and is best used from May through October. In addition to hiking, many people also use this trail for walking.
What is the most popular waterfall in Minnesota that belongs at the top of everyone's bucket list?
You can't help but love waterfalls. Minnesota is home to many beautiful waterfalls of all sizes. Some of them are even more popular than others. The most popular waterfall in Minnesota is Goosebery Falls. This waterfall is located at Gooseberry Falls State Park in Two Harbors. It's a series of waterfalls that are surrounded by lots of rocky gorge. Gooseberry Falls, which flows into Lake Superior, receives visitors from all across Minnesota and beyond. If you're a fan of waterfalls, you'll definitely want to make plans to visit Gooseberry Falls. Not only is the waterfall beautiful, but the surrounding scenery is some of the best you'll ever experience.
Related Articles
Explore Minnesota