The Ultimate Bucket List For Anyone In Minnesota Who Loves Waterfall Hikes
Compared to many other states, Minnesota is home to a huge variety of waterfalls. Whether you're content with a creek waterfall that has a modest drop, or a 120-foot waterfall in deep wilderness, you're bound to find something to love. Even better than viewing a waterfall is taking a scenic hike to get there. Minnesota has plenty of such hikes, each as beautiful as the next. The next time you have a hankering for a waterfall hike in Minnesota, why not check one of these off your bucket list? They're some of the best hikes to waterfalls in Minnesota after all.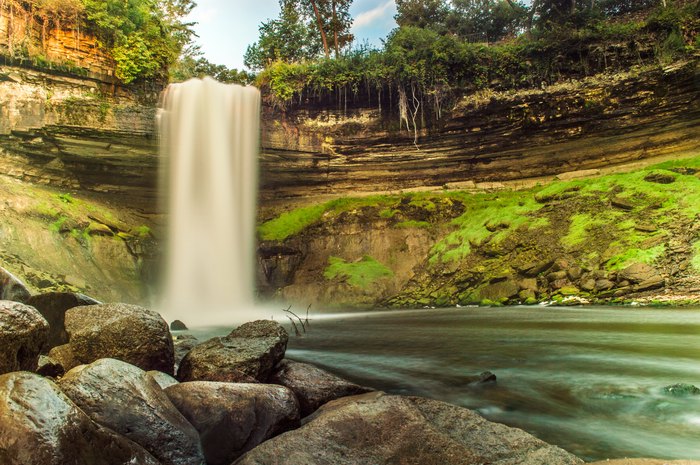 Have you ever experienced any of these waterfall hikes? Do you think they are some of the best hikes to waterfalls in Minnesota? If so, let us know in the comments below. Also, if you have a favorite waterfall hike, please share that with us as well.
OnlyInYourState may earn compensation through affiliate links in this article.
Waterfalls In Minnesota
April 08, 2022
What are five of the best kid-friendly hikes around Minnesota that are also some of the easiest?
There are many trails in Minnesota of all difficulties. While some are difficult to navigate, many others are quite easy. In fact, they're easy enough for kids to hike. Listed below are five of the best kid-friendly trails in Minnesota that also have an easy level of difficulty.
1. Fifth Falls and Superior Hiking Trail Loop
Located within Gooseberry Falls State Park near Silver Creek Township is the Fifth Falls and Superior Hiking Trail Loop. This three-mile loop trail is mostly used for hiking, birding, and road biking. The best time of year to use this trail is from March through December.
2. Pike Island Loop
Minnesota's Pike Island Loop is a 3.9-mile trail that's located within Fort Snelling State Park near Fort Snelling. In addition to hiking, many people enjoy using this trail for birding. During the winter months, it's also a popular area for cross-country skiing. This trail is perfect for visiting no matter the time of year.
3. Jensen Lake Trail
The Jensen Lake Trail is located within Lebanon Hills Regional Park near St. Paul. It's a 2.1-mile loop trail that many people enjoy using for birding, running, and of course hiking. May through September is the best time of year to use Minnesota's Jensen Lake Trail.
4. Silver Creek Trail
Located within Minnesota's Jay Cooke State Park is the Silver Creek Trail. This 3.4-mile loop trail is a popular spot for hiking, camping, and road biking. It's also great for use year-round.
5. Shovel Point
Shovel Point is a 1.2-mile, out-and-back trail that's located within Tettegouche State Park. Many people choose to use this trail for hiking, running, and birding. It's also a great trail to explore whenever you're in need of some peace and quiet because it's not very crowded.
What's one of the most scenic hikes in Minnesota that belong on every outdoor enthusiast's bucket list?
There are several trails in Minnesota that offer lots of beautiful scenery. One of the most scenic hikes in Minnesota is the Hidden Falls Trail, which is located within Nerstrand Big Woods State Park. This one-mile loop trail will take you through lots of forest and lead you to a small, yet beautiful, 20-foot waterfall. Because the Hidden Falls Trail has flat terrain, it's easy enough for most people to hike it. If you plan to hike this scenic trail, don't forget to bring along your camera. You'll definitely want to capture some shots of all the beautiful scenery.