These 9 Restaurants In Minnesota Don't Look Like Much… But WOW, They're Good
Never judge a book by its cover, and never judge a restaurant by its facade. This is something Minnesotans are especially good at. We can usually see through humble and antique exteriors, and in the case of these restaurants, it's lucky we do! Some of the best restaurants in Minnesota are hole-in-the-wall, or plain establishments that turn out surprising and phenomenal food. These nine are definitely much better than they look on the outside: check out our list of hidden restaurants in Minnesota.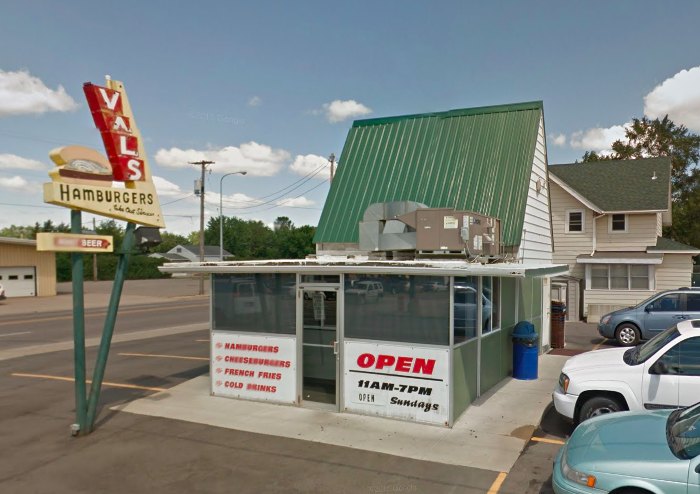 What other hidden restaurants in Minnesota do you know of that are closeted behind a plain exterior? Tell us your favorites in the comments!
Address: Val's Hamburgers, 628 E St Germain St, St Cloud, MN 56304, USA
Address: Duluth Grill, 118 S 27th Ave W, Duluth, MN 55806, USA
Address: 129 7th Ave S, St Cloud, MN 56301, USA
Address: 711 Washington St, Brainerd, MN 56401, USA
Address: Psycho Suzi's Motor Lounge, 1900 Marshall St NE, Minneapolis, MN 55418, USA
Address: 492 Hamline Ave S, St Paul, MN 55116, USA
Address: Al's Breakfast, 413 14th Ave SE, Minneapolis, MN 55414, USA
Address: Rapidan Dam, Mankato, MN 56001, USA
Address: 799 University Ave W, St Paul, MN 55104, USA
Best Restaurants In Minnesota
May 13, 2021
What are some of the best buffets in Minnesota?
We've got so many awesome buffet restaurants here! Minneapolis's Maya Cuisine & Buffet is a charmingly decorated Mexican buffet that is certain to fill you up. We've also got the delicious Dixie's On Grand in St. Paul. They have delicious all-you-can-eat southern food and often feature live jazz musicians. You don't want to miss their fried chicken!
What are some traditional foods in Minnesota?
We've got lots of classic Minnesota dishes here in the Land of 10,000 Lakes. We might be biased, but we don't think anything tops tater tot hotdish. And of course, we're known for the Juicy Lucy, an amazing cheese-filled hamburger that everyone misses when they leave Minnesota.
What are some popular hamburgers in Minnesota?
Hamburgers in Minnesota can't be discussed without mentioning Meister's Bar and Grill. They have an amazing 2-pound burger! If you manage to finish it in under thirty minutes, you'll get a free t-shirt (and maybe slightly-clogged arteries).
Address: Val's Hamburgers, 628 E St Germain St, St Cloud, MN 56304, USA
Address: Duluth Grill, 118 S 27th Ave W, Duluth, MN 55806, USA
Address: 129 7th Ave S, St Cloud, MN 56301, USA
Address: 711 Washington St, Brainerd, MN 56401, USA
Address: Psycho Suzi's Motor Lounge, 1900 Marshall St NE, Minneapolis, MN 55418, USA
Address: 492 Hamline Ave S, St Paul, MN 55116, USA
Address: Al's Breakfast, 413 14th Ave SE, Minneapolis, MN 55414, USA
Address: Rapidan Dam, Mankato, MN 56001, USA
Address: 799 University Ave W, St Paul, MN 55104, USA