Here Are The Best Times And Places To View Fall Foliage In Minnesota
Believe it or not, fall is on its way to the great state of Minnesota. Even as we're enjoying the last few weeks of summer, we can't help but look forward to one of the most breathtaking seasons in the Land of 10,000 Lakes. The leaves will undergo their annual transformation into spectacular reds, oranges, and gold, and there are few things more magical. Thanks to the experts over at Smoky Mountains, there's even a way to predict when and where maximum leaf viewing will occur! Wondering something about when do leaves change in Minnesota? Look no further!
Let's take a peek: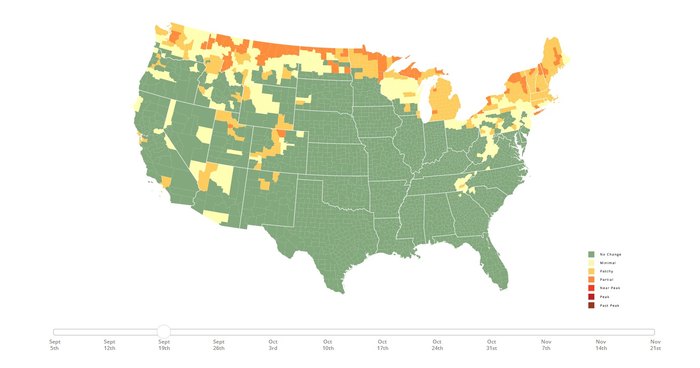 Few things in this world are as breathtaking as Minnesota in the fall. You can take a glimpse at the interactive map on the Smoky Mountains website. What are you looking forward to most about this upcoming fall season in Minnesota? We'd love to hear from you!
When Do Leaves Change In Minnesota?
September 13, 2022
When do leaves change in Minnesota?  
Minnesota autumn tends to begin after the first freeze, so late August/early September is the time to go up north and check it out. The leaves change first in the northernmost reaches of the state and color makes its way south following this; by mid-September, northern Minnesota ought to be in full autumn swing, and come mid-October, most of the state will have already seen its peak.  
Where can I find the best fall foliage in Minnesota? 
The best fall foliage in Minnesota can be found almost everywhere you turn, though, of course, we do have a few favorite places to experience it. Many of the amazing state parks in Minnesota are perfect for lovers of fall color to become fully immersed, and you'll also love some of our most incredible scenic fall drives in Minnesota, too. The northern shore of Lake Superior is another breathtaking amazing place to find autumn splendor, and there are plenty of beautiful arboretums all over the state where fall color will be at its best. The Chippewa National Forest is another amazing autumn getaway in Minnesota, and we think you'll love it as much as we do.  
What is fall in Minnesota like?  
Fall in Minnesota is a magical time filled with wonder and intrigue; gone is the stifling heat and humidity of summertime, replaced with a notable chill in the air and plenty of fun festivities to take part in. Visit any of the best haunted attractions in Minnesota and be sure to crack the secrets of some of the best corn mazes in Minnesota, too. The kids will love a good old hayride, and there are dozens of you-pick pumpkin patches in Minnesota to enjoy as well. There's a distinct scent to the breeze in the fall – something about fallen leaves and crispy air. Spooky season is upon us, and Minnesota does it right.