The Wonderfully Weird Restaurant In Michigan Everyone Should Try At Least Once
Michigan is home to its fair share of unique restaurants. From pancake houses to coney dog cafes, there's something in the Great Lakes State to satisfy every food preference. But there's one restaurant that takes the cake when it comes to delightfully bizarre places to eat, and that's Joe's Gizzard City in Potterville, Michigan.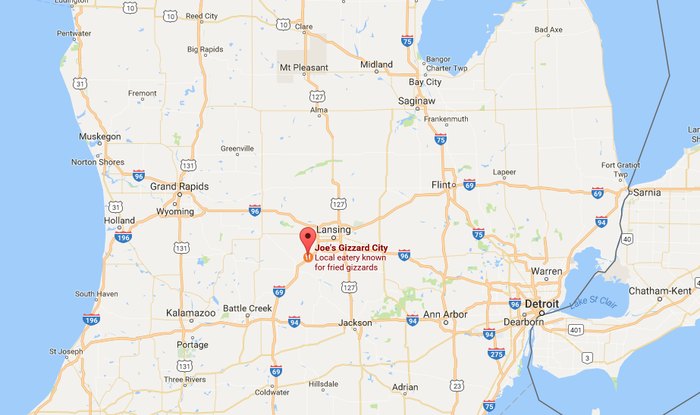 For business hours and more information about Joe's Gizzard City in Michigan, click here to visit their official website. Have you dined on chicken gizzards before? How would you describe the taste to those who have never taken the leap? Let us know in the comment section below!
For more must-visit restaurants in the Great Lakes State, check out our The Ultimate Guide To The Best Restaurants In Michigan — Pizzas, Tacos, Ice Cream, And More!
Address: Joe's Gizzard City, 120 W Main St, Potterville, MI 48876, USA
Joe's Gizzard City in Michigan
November 01, 2021
What are some other unique restaurants in Michigan?
When it comes to dining, Michigan has no shortage of fantastic — and, yes, quirky — options. From BBQ joints to quaint hole-in-the-wall eateries, there's something here in the Great Lakes State to satisfy every craving. When you're searching for something out-of-the-box, though, there are a few delicious spots that simply must be explored. Here are 11 of our favorite unique restaurants in Michigan. For a colorful pizza-eating experience, check out PizzaPlex in Detroit. It features a beautiful outdoor patio with large, colorful murals that make dining there a lot of fun!
What foods is Michigan known for?
The Great Lakes State has contributed a lot to the culinary landscape of America; we're well-known for things like Coney Island dot dogs and Detroit-style pizza, pasties and paczkis, cherries and blueberries, and fudge. Let's talk a bit about Michigan's fudge, because it's legendary! On lovely Mackinac Island, fudge reigns supreme. Today, there are 13 fudge shops on Mackinac, and they produce so much fudge that the island imports 10 tons of sugar per week! We share some of our favorite Michigan fudge shops in this article (including several Mackinac spots), and trust us when we say that you'll want to try them all!
What's the deal with Detroit-style pizza?
One of Michigan's major culinary claims to fame, Detroit-style pizza is, in our humble opinion, the very best way to enjoy a pie. Similar to Sicilian-style pies, Detroit-style pizza is known for its square shape, thick crust, and crispy bottom. And in Michigan, you'll find the world's best version at Buddy's Pizza. It's not a hard claim to make that Buddy's Pizza has the world's best Detroit-style pizza; they invented it! In 1946, Gus Guerra and Concetta "Connie" Piccinato opened Buddy's Rendezvous Pizzeria at the corner of Conant and Six-Mile. They borrowed forged steel pans from a nearby automotive plant to bake their pies, leading to the iconic crispy crust that Detroit-style pizza is known for. Read more about this beloved eatery here, and make it your mission to try one of their epic, Detroit-style 'zas!
Address: Joe's Gizzard City, 120 W Main St, Potterville, MI 48876, USA