The Natural Swimming Hole At Ocqueoc Falls In Michigan Will Take You Back To The Good Ole Days
When the weather gets hot, there's nothing more refreshing than taking a dip in cool water. We Michiganders are lucky to have access to plenty of outdoor swimming spots, all of which feature crisp, cool, beautiful waters. But there's one natural swimming hole in Michigan that really stands above the rest: Ocqueoc Falls. It will take your next natural adventure to an entirely new level. Get ready to splash the day away at this hidden gem!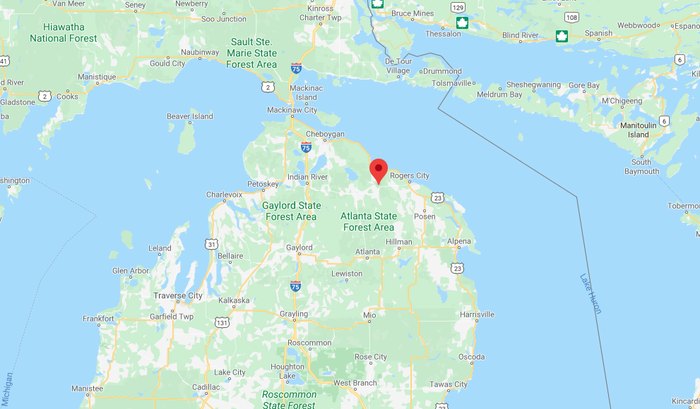 For more information about Ocqueoc Falls and its nearby campground, including safety and accessibility guidelines, check out the official Michigan Department of Natural Resources website. Have you explored this natural swimming hole in Michigan in years past? What did you think? We'd love to have you share your experiences below or recommend another natural swimming hole by filling out our nomination form.
Are you craving more waterfront fun now? We thought you might be! Check out a sunset at this beautiful Lake Michigan beach for the ultimate waterfront experience!
If you're still in the mood for more Michigan adventures, take a look at this video:
OnlyInYourState may earn compensation through affiliate links in this article.
More to Explore
Natural Swimming Hole in Michigan
Does Michigan have many swimming holes?
Michigan is awash in water -- we are called The Great Lake State, after all -- and that includes some truly amazing swimming holes. We are partial to these waterfall swimming holes, each of which offers a memorable day in the water *and* stunning scenic beauty. Tahquamenon Falls is a perennial favorite -- Michigan's most famous waterfalls are revered for a reason, and they're even more wonderful when you're fully immersed in their beauty! We recommend taking a dip near Tahquamenon Falls' Lower Falls, which will absolutely overwhelm you with natural delight. This family-friendly swimming site is the perfect place to relax after a long day in the great outdoors. For more information, check out the official park website.
Are there many waterfalls in Michigan?
There are some 200 waterfalls in Michigan, and they are all absolutely ravishing. This amazing waterfall road trip visits nine of the best waterfalls in the state, including Potawatomi Falls, Gabbro Falls, Manabezho Falls, Munising Falls, and Sable Falls. If you're looking to visit a bunch of waterfalls in one quick trip, this weekend waterfall itinerary was made for you. Clocking in at just over seven hours long, you can break the trip up into two very scenic days, where you'll happen upon some of The Great Lake State's most winsome waterfalls!
What's the most pristine lake in Michigan?
There's nothing more #PureMichigan than our beautiful bodies of water. And Torch Lake is our state's crown jewel. As the state's longest and second-largest inland lake, Torch Lake is a favorite destination for fishing, boating, and relaxing near the shore. What makes the lake most unique, though, is its stunningly gorgeous clear water -- it's absolutely crystal-clear and ideal for swimmers of all ages. This pristine water feels great on a hot day, and it is definitely one of the best swimming holes in Michigan, too!
Related Articles
Explore Michigan
Featured Addresses

Ocqueoc Falls, Ocqueoc Township, MI 49759, USA