Posted in Detroit
February 08, 2023
The Tiny Shop Near Detroit That Serves Homemade Ice Cream To Die For
Every year as the chill of winter starts to fade, the cravings for sweet summer treats get real. And the moment the sun pops out from behind those clouds, it's time to indulge in your favorite ice cream treats! Here in Metro Detroit, we've got all sorts of delightful dairy products and sweet shops to choose from. But for some of the best ice cream in Detroit, there's one standout ice cream shop that will completely charm you with its delicious flavors, creamy creations, and friendly service.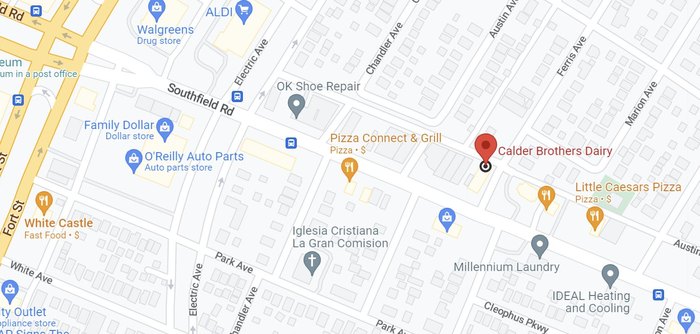 For more information about Calder Dairy and Farm, visit their official website. You can even peruse a full listing of their flavor offerings. Be prepared: your mouth is about to water! This Detroit ice cream shop is definitely one of our favorite places to grab a frozen treat…after all, ice cream doesn't get much better than straight from the farm!
What are some more of the best places to get ice cream in Detroit? What about the state? Nominate your favorites so we can check them out!
For more sweet surprises in Detroit and beyond, take this delicious homemade pie road trip through Michigan.
OnlyInYourState may earn compensation through affiliate links in this article.
Address: Calder Brothers Dairy, 1020 Southfield Rd, Lincoln Park, MI 48146, USA
Detroit Ice Cream Shops & Related Info
February 13, 2023
What are the best chocolate shops near Detroit?
In and around Detroit are a number of tempting candy shops, old-school chocolate shops, bakeries, and more. Depending on your specific craving, you and your sweet tooth could easily eat your way through the city for years and never explore the rest of Michigan! First up, here are some of the most luscious chocolate and candy shops in Detroit:
What are the best ice cream shops in Detroit?
From classic soft serve to frozen yogurt, gelato, sundaes, and swirls piled high with toppings, some of the best ice cream shops in and around Detroit are:
Are there any old-fashioned bakeries in Detroit?
Paczki, donuts, fresh-baked cinnamon buns, rolls, loaves, cupcakes, and every type of treat and pastry imaginable can be found in the heart of Detroit. We have some serious old-world talent here! Check out some of the coolest bakeries in Detroit: