The Hidden Beaches Road Trip That Will Show You Metro Detroit Like Never Before
Did you know that there are hidden beaches in Detroit and its neighboring communities? No matter the season, there's something wonderful about spending time along the shoreline — and you certainly don't have to be a bonafide beach bum to appreciate the beauty of the waterfront. Metro Detroit might not be the first place that comes to mind when you imagine shoreline adventures, but you might be surprised to learn that our region houses its fair share of gorgeous beaches. When you're ready to plot a trip to some of the prettiest waterfront spots within driving distance of the Motor City, check out our road trip route to some of the most amazing hidden beaches in Detroit and Metro Detroit.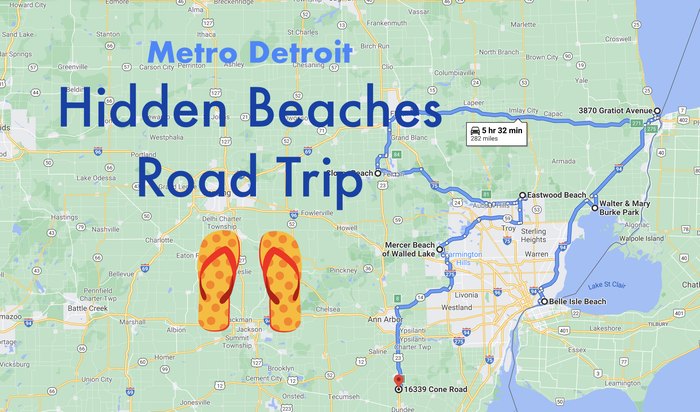 Now that you're up to date on the best hidden beaches in Detroit and Metro Detroit, you can start planning your next waterfront adventure. Are there any other hidden treasures in Metro Detroit that should have been included on our road trip route? We would love to hear from you, so share your thoughts with us in the Facebook comments or make an official recommendation for some of the best natural attractions in Detroit by filling out our nomination form.
Can't get enough of the great outdoors? You'll want to read about these fantastic and history-rich hiking trails near Detroit.
OnlyInYourState may earn compensation through affiliate links in this article.
Hidden Beaches In Detroit
April 18, 2022
Are there any other beautiful beaches near Detroit?
Now that you know about some of the greatest hidden beaches in Metro Detroit, you might be wondering if there are other beaches within driving distance of the city. One of the most beautiful beaches near the Motor City can be found at Bay City State Park, which boasts more than 2,300 acres of land and can be reached by car from Detroit in about one hour and 45 minutes. If you're eager to plan a beach day, this spot is a perfect option -- and its natural splendor will blow you away.
Are there any other unique outdoor attractions in Detroit?
Beaches are amazing, but some folks prefer to spend time away from the water. Luckily for those who hope to expand their horizons beyond beachfront exploration, we've got a great compilation of the best outdoor attractions in Detroit and Metro Detroit. Check out everything from a biking trail through the city to an outdoor fountain that offers refreshing fun for the whole family when warm weather arrives. You don't have to be a beach bum to appreciate fresh-air delight in Detroit.
What are some of the best places to dine in Detroit?
After a long day at the beach, there's nothing better than settling in for a great meal. There are so many must-visit restaurants in Detroit, whether you're a fan of charming cafes or more upscale establishments. If you're searching for the best of the best, read about the most historic restaurants in Detroit to learn about a handful of the Motor City's must-visit spots. You'll be satisfying your cravings while immersing yourself in local history before you know it.