A Waterpark Campground In Massachusetts, Pine Acres Family Resort Belongs On Your Summer Bucket List
Camping is one of life's simple pleasures, but there's nothing simple about this awesome family-friendly campground. With a gorgeous lakeside location, cozy cabins, and even a mini waterpark, there's every reason to visit Pine Acres Family Resort in Massachusetts this season.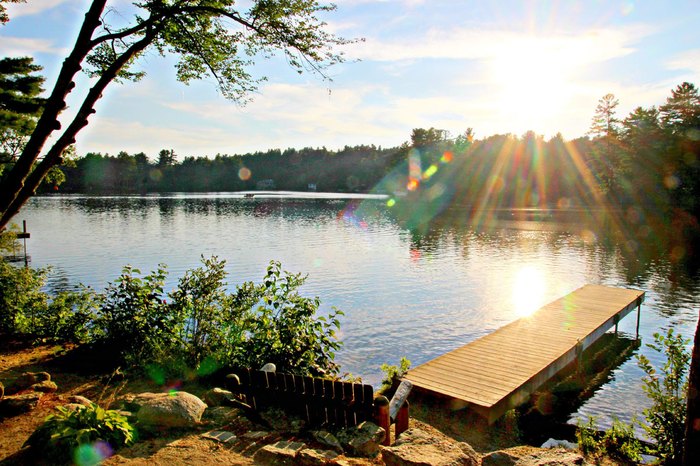 You can find Pine Acres Family Camping Resort in Massachusetts at 203 Bechan Rd., Oakham, Mass. 
Visit Pine Acres Family Camping Resort's official website for more information and to make reservations. For another awesome spot to camp this season, check out this waterfall campground in Massachusetts.
Address: 203 Bechan Rd, Oakham, MA 01068, USA
Pine Acres Family Resort in Massachusetts
July 25, 2020
What are the best family-friendly campgrounds in Massachusetts?
If you're looking for a family campground in Massachusetts that promises an unforgettable adventure, plan a trip to Normandy Farms in Foxboro. The family-friendly campground offers several accommodation options – from roughing it in a classic tent to checking into a cozy yurt. You'll also have access to a ton of fun activities, including four swimming pools (one's indoors for those rainy and chilly days), a wellness center, playgrounds for the kiddos, and even a bike park with a jump line. You can also spend your days hiking along the more than 20 miles of trails that meander through the campground.
Can I camp right on the water in Massachusetts?
A day at the beach often isn't enough time, is it? We want to wake up to the sunrise and go to sleep after the sun has set without leaving the soft sand. Some of the best campgrounds in Massachusetts allow you, in fact, to camp right by the water. One of the most popular spots to camp oceanside is Horseneck Beach State Reservation in Westport. Wake up to the sound of the waves crashing into the shore at what just might be the state's most popular campground. Race Point Beach in Provincetown also offers an unforgettable beach camping experience.
Where can I go primitive camping in Massachusetts?
We have plenty of opportunities to go glamping in Massachusetts. However, those of us who like to rough it might want to go primitive camping in Massachusetts – and there are a ton of spots to do just that. D.A.R. State Forest in Goshen, for example, offers 50 tent camping sites where you can relax and enjoy an adventure among nature. The state forest even boasts a swimming beach and hiking trails. Cape Ann Campsite in Gloucester also offers rustic camping.
Address: 203 Bechan Rd, Oakham, MA 01068, USA