The Lighthouse Road Trip On The Massachusetts Coast That's Dreamily Beautiful
The Massachusetts coast is peppered with lighthouses, which are an iconic piece of New England culture. Their striking silhouettes rise over some of the most treacherous waters in the state, and have inspired everything from literature, to famous artwork, and even a few chilling ghost stories. Wouldn't it be magical to embark on a lighthouse road trip in Massachusetts, taking in the majesty of these incredible sites? This road trip will take you to nine Massachusetts lighthouses that are worth seeing. The total drive time comes in just shy of nine hours, so you may want to plan a stop at a coastal inn or hotel along the way. Stretch this Massachusetts lighthouse road trip over a long weekend for an incredible escape from routine! The route sticks to the coast where possible, so you'll get to see mile after mile of sparkling water roll by your window.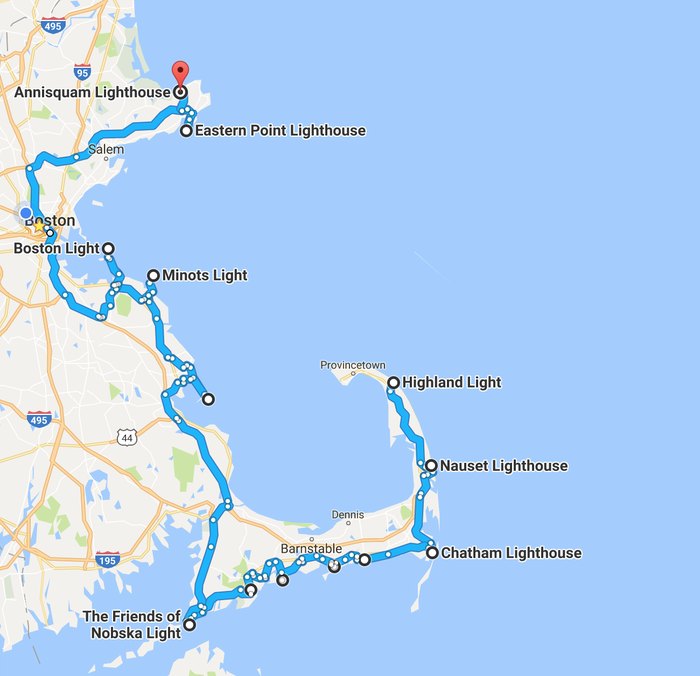 This incredible lighthouse road trip in Massachusetts will take you to some of the most remarkable local landscapes. Are there any places that you would add to this list? Share your thoughts in the comments!
Looking for another awesome guided trip around Massachusetts? Try this road trip to the most haunted places in the state.
Address: 780 Ocean View Dr, Eastham, MA 02642, USA
Address: 37 Main St, Chatham, MA 02633, USA
Address: 233 Nobska Rd, Woods Hole, MA 02543, USA
Address: Gurnett Light, Duxbury, MA 02332, USA
Address: Little Brewster Island, Massachusetts, USA
Address: Annisquam Light, Norwood Heights, Gloucester, MA 01930, USA
Address: Gloucester, MA 01930, USA
Lighthouse Road Trip In Massachusetts
April 19, 2020
What is the most famous lighthouse in Massachusetts?
Out of the many historic lighthouses in Massachusetts, the Boston Light is arguably the most famous. A lighthouse has graced this site since 1716, although the original tower was destroyed during the Revolutionary War.
Are there any other unique road trips to take in Massachusetts?
There are a number of unique road trips in Massachusetts! You can start by enjoying some of our favorites, or you can ask locals for some tips. No matter what you decide to do, the charms of The Bay State will capture your heart.
What else can I do along the coast in Massachusetts?

Perhaps the most magnificent aspect of life in New England is dining right on the water, admiring the enchanting and gorgeous coastline. This is also true when it comes to things to do on the coast of Massachusetts. Dive into the lobster foodie trail and indulge in some locally harvested eats with killer views.
Address: 780 Ocean View Dr, Eastham, MA 02642, USA
Address: 37 Main St, Chatham, MA 02633, USA
Address: 233 Nobska Rd, Woods Hole, MA 02543, USA
Address: Gurnett Light, Duxbury, MA 02332, USA
Address: Little Brewster Island, Massachusetts, USA
Address: Annisquam Light, Norwood Heights, Gloucester, MA 01930, USA
Address: Gloucester, MA 01930, USA