5 Boardwalks In Massachusetts That Are Charming Summer Destinations
There's nothing like strolling along a boardwalk to inject a little nostalgia and serenity into a summer day. While the boardwalks in Massachusetts may not have the flashing lights, Ferris wheels and food trucks of destinations like Myrtle Beach and Ocean City, we have plenty of coastal beauty.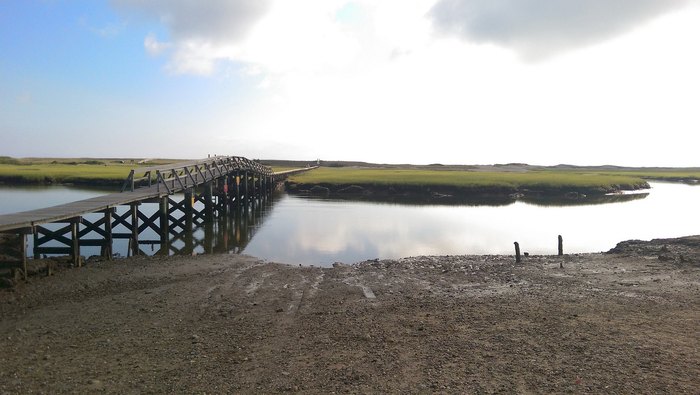 This boardwalk is a magical destination. Located at the entrance to Sandwich Harbor and Sandwich Town Beach, the "plank walk" is built over the low dunes of the beach and passes over Mill Creek. Each plank of the boardwalk is carved with the name of someone who donates to the boardwalk's maintenance.
The boardwalk seems to stretch out into infinity as you walk along stunning views of Cape Cod Bay. Many spots allow you to peer into the swirling water or swaying beach grass in order to get a closer look at the area's wildlife. When you've had your fill of strolling, take a dip in the beach's warm waters.
To reach the boardwalk, take 6A to Town Neck Road and park at a small lot right by Horizon's restaurant. This is also a great place to grab a pre or post-boardwalk snack. Go here for more information about the Beaches in Sandwich.
This boardwalk isn't as well-known as the Sandwich boardwalk, but it's definitely worth a long visit. Called both Gray's Beach Boardwalk and the Bass Hole Boardwalk, it borders beautiful Chapin Beach in Dennis and offers stunning views of Bass Hole.
Walking along the boardwalk, you'll spot Osprey nests and plenty of gently waving beach grass. The channel that runs along the boardwalk is a popular spot for kayaking and paddle boarding, and might be one of the most scenic ways to get to the tip of the beach.
Go in the early evening in order to walk down to the end of the walk and catch a truly beautiful sunset.
This boardwalk features free parking year-round, a covered picnic area, and bathrooms. The entrance to the beach is located at 400 Center Street, Yarmouthport. Learn more at the website of Yarmouth.
This great boardwalk is part of the Cape Cod National Seashore. It gets the most traffic during the autumn months, due to the spectacular red maple foliage that edges the boardwalk. However, this means that the boardwalk is the perfect spot to explore during the summertime when you want to get away from the tourist crowd.
The trail extends about 0.5 miles from the Hemenway Landing through beautiful swamp land and shady maple groves. Once you're done on the boardwalk, check out the fabulous Eastham National Seashore beaches right next door, like Boat Meadow Beach, Kingsbury Beach and Sunken Meadow Beach. Discover more about the Red Maple Swamp Trail.
This is one of the National Seashore's most well-known boardwalks. The Atlantic White Cedar Swamp trail is an enchanting path through a beautiful landscape of towering cedar trees. You'll pass through mystical groves covered in moss, where the only sound disturbing the hush is the soft croaking of forest frogs.
This is a great way to escape the summer heat while still exploring the outdoors. Due to the lush greenery and thick overhead foliage, you'll be shaded from the sun while you explore this lovely corner of Cape Cod.
This boardwalk is located on Marconi Site Road, Wellfleet. The boardwalk path will only take you about 30 minutes to complete. Read more about the Atlantic White Cedar Trail.
Uncle Tim's Bridge is the shortest of the boardwalks on this list, but it's just as gorgeous as the rest of them. This boardwalk can be reached via Commercial Street and extends across Duck Creek to a small island.
It's a great place to take your furry pets, and the bridge is also bike-friendly. If you peer over the side of the boardwalk, you'll see lots of shimmering oyster shells and live fiddler crabs. Uncle Tim's Bridge is the perfect vantage point to catch fireworks over Wellfleet Harbor and connects to a short trail that will take you around the edge of the water.
What are your favorite boardwalks in Massachusetts? If you're looking for some amazing hidden spots to swim this summer, check out these lesser-known beaches in Massachusetts.
Address: 103 Wood Ave, Sandwich, MA 02563, USA
Address: 400 Center St, Yarmouth Port, MA 02675, USA
Address: 26 East St, Eastham, MA 02642, USA
Address: Wellfleet, MA, USA
Address: 75 E Commercial St, Wellfleet, MA 02667, USA
OnlyInYourState may earn compensation through affiliate links in this article.
boardwalks in massachusetts
July 31, 2020
What are the most thrilling attractions in Massachusetts?
Still looking for places to visit in Massachusetts this summer? How about a day at Ski Ward Ski Area, which offers downhill summer tubing? Zip down one of the six slides. Just remember to hold on to the sides of your tube. Once you hit the bottom, you can ride the magic carpet back up to the top. Stay cool all summer long when you go on the longest float trip in Massachusetts. The journey will take you along the Deerfield River.
What are the best hikes with a view in Massachusetts?
Hiking promises fresh air, exercise, and an abundance of natural beauty. For one of the most beautiful hikes in Massachusetts, follow the Stony Ledge route to Mount Greylock. At just over 3.5 miles, the trek generally takes between two and three hours. You'll be treated to such natural beauty as lush forest, an open meadow, and maybe a wet-weather waterfall. If you prefer hiking near the water, you can't go wrong with the Douglas Forest Wallis Pond Loop Trail. Ideal for hikers of all ages and skill levels, the five-mile trail, which welcomes dogs, features a wooden boardwalk, a canopy of forest trees, and a picturesque spot with picnic tables. You might also want to take a dip in the cool lake water.
What are the best outdoor adventures in Massachusetts?
Outdoor adventures in Massachusetts are easy to find. If you like adventure high above the ground, set off on a beautiful canopy walk. Ramblewild's Tree-to-Tree Adventure Park in Lanesborough boasts a spectacular tree-top course that's ideal for kiddos seven and older. Choose from such heart-pounding adventures as ziplining, crossing a high wire, and climbing a rope ladder. For an adventure on the water, on the other, sign up for a whitewater rafting adventure with Crab Apple White Water Adventures in Charlemont. The company offers half-day and full-day guided adventures.
Address: 103 Wood Ave, Sandwich, MA 02563, USA
Address: 400 Center St, Yarmouth Port, MA 02675, USA
Address: 26 East St, Eastham, MA 02642, USA
Address: Wellfleet, MA, USA
Address: 75 E Commercial St, Wellfleet, MA 02667, USA
OnlyInYourState may earn compensation through affiliate links in this article.