9 Of The Most Beautiful Fall Destinations In Massachusetts
There's nothing quite like fall in Massachusetts. It's no wonder why people from all over the world visit to view the leaves changing into vibrant colors during this time of year. With its varied landscapes of mountains, valleys, and coastal plains, as well as numerous parks and historic sites, there are plenty of gorgeous spots to enjoy fall foliage in MA. Here are some of the most beautiful places to visit in MA in the fall.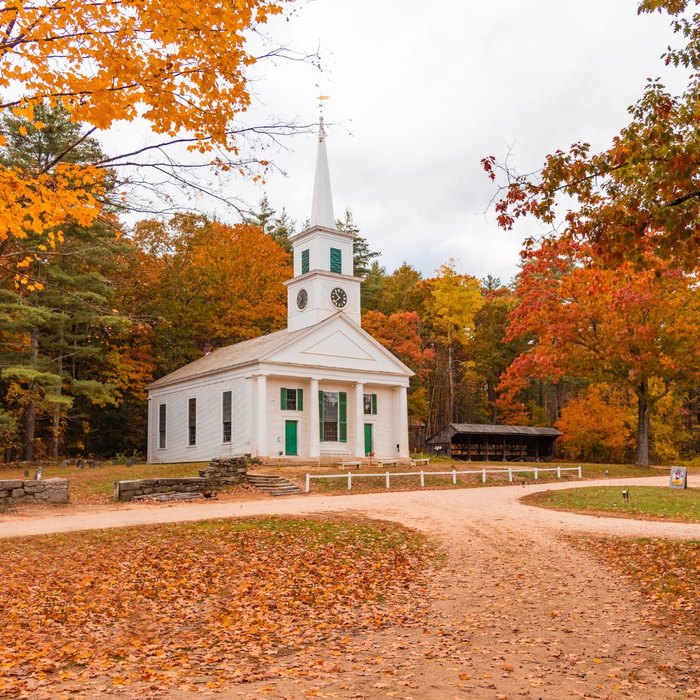 We know that there are many other gorgeous places to visit in Massachusetts in the fall. What are your favorite fall day trips in Massachusetts? Please tell us in the comments!
Wondering about some of the other seasons? Check out things to do in the winter, spring, and summer!
Address: Old Sturbridge Village, Sturbridge, MA 01566, USA
Address: Mount Greylock State Reservation Visitor Center, 30 Rockwell Rd, Lanesborough, MA 01237, USA
Address: Minute Man National Historical Park, 250 N Great Rd, Lincoln, MA 01773, USA
Address: Cape Cod, Massachusetts, USA
Address: Boston Public Garden Foot Bridge, Boston, MA 02116, USA
Address: Maudslay State Park, 74 Curzon Mill Rd, Newburyport, MA 01950, USA
Address: Bridge of Flowers, Shelburne Falls, MA 01370, USA
Address: Mass Audubon's Pleasant Valley Wildlife Sanctuary, 472 W Mountain Rd, Lenox, MA 01240, USA
Address: Quabbin Reservoir, Massachusetts, USA
Fall in Massachusetts
August 17, 2022
What are the best Halloween towns in Massachusetts?
Out of 351 towns and cities, there are several great Halloween towns in Massachusetts to visit during the season. But if you are looking for the premier Halloween place to visit in Massachusetts in the fall, you've got to get to Salem, located in Essex County. Location of the 1692 Salem witch trials, this city is steeped in some very creepy and real history, and it celebrates it year-round, most especially during the Halloween season. Among the tons of things to do here include themed parades, haunted and historical tours, several different museums open for exploration, seances, pumpkin decorating contests, the House of Seven Gables, and of course, some of the very best decorations and costumes to be found in all of New England.
What are the oldest attractions in Massachusetts?
If you are looking for old attractions in the Bay State, head to Plymouth Rock. It was here that the pilgrims from the Mayflower landed in late 1620. You can be part of the over one million visitors that view it each year by heading to Pilgrim Memorial State Park. Within its 17 acres, you can do a self-guided Monuments and Memorials Walking Tour, bask in the waterfront views of Plymouth Harbor, and see the Mayflower II, a replica of the historic ship.
Which state parks should I visit in Massachusetts?
There are 24 state parks in Massachusetts for your exploration. In Boston, there's Boston Harbor Islands State Park. This 1,482-acre park consists of 34 peninsulas and islands that surround the harbor, where you can take in both wildlife and urban life. Take a harbor cruise to see the waterfront scenery and Boston Harbor Light, hike a variety of different trails, swim, boat, or get a history lesson from one of the forts. Bash Bish Falls State Park is in Mount Washington. The highlight of this 424-acre park is Bash Bish Fall itself, the tallest waterfall in the state at 60 feet. Take in the unique wildlife of the area, hike to and around the falls, and even hop over the state line into New York and visit the 5,000-acre Taconic State Park. 
Address: Old Sturbridge Village, Sturbridge, MA 01566, USA
Address: Mount Greylock State Reservation Visitor Center, 30 Rockwell Rd, Lanesborough, MA 01237, USA
Address: Minute Man National Historical Park, 250 N Great Rd, Lincoln, MA 01773, USA
Address: Cape Cod, Massachusetts, USA
Address: Boston Public Garden Foot Bridge, Boston, MA 02116, USA
Address: Maudslay State Park, 74 Curzon Mill Rd, Newburyport, MA 01950, USA
Address: Bridge of Flowers, Shelburne Falls, MA 01370, USA
Address: Mass Audubon's Pleasant Valley Wildlife Sanctuary, 472 W Mountain Rd, Lenox, MA 01240, USA
Address: Quabbin Reservoir, Massachusetts, USA