9 Unforgettable Road Trips To Take In Maryland Before You Die
There's always something new to see in Maryland; throughout the years, we have combined some of the best spots into amazing Maryland road trips. Now, take a look at some of the best trips featured throughout recent years. We've detailed a few of the best scenic drives in Maryland and some thoroughly enjoyable road trip ideas from Maryland. From a foodie road trip involving delicious crab cakes to an epic waterfalls road trip, you can add these itineraries to your own yearly calendar for some fun exploration. Consider adding a few of the best road trips from Maryland to your bucket list. You won't be sorry you did.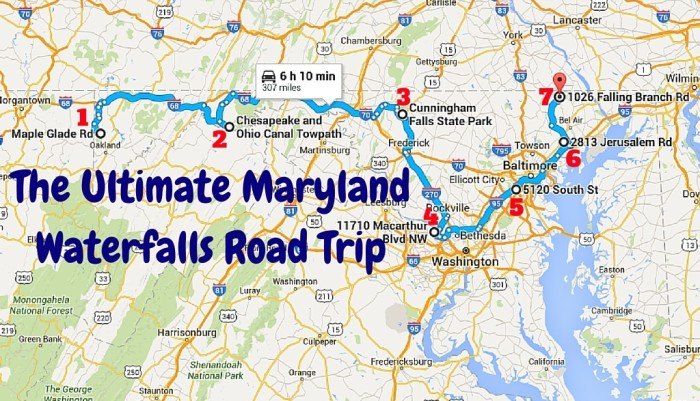 So, which one of these Maryland road trips are you doing first? Looking for other road trips from Maryland that are worth the trip? Before you set out on the road, look at our Road Trip Essentials Packing List & Guide first! You don't want to leave home without most of these items, from battery packs to emergency road trip kits.
OnlyInYourState may earn compensation through affiliate links in this article.
Best Road Trips In Maryland
April 23, 2021
What are the best scenic drives in Maryland?
Maryland is full of beautiful views, and you can enjoy them right through your windshield on some of these scenic drives in Maryland. Driving down Interstate 68 along Sideling Hill is certainly an experience worth having. The colorful rock layers surrounding the road are mesmerizing. For a drive through some historic charm, try Route 222. The scenic bridges and old homes make for quite a picturesque experience. If you like a view of the water, you can't go wrong with Hoopers Island Road. You could make an entire day out of that one if you stop at some of the sights along the way, including a tasty seafood restaurant.
What other things to do in Maryland are bucket list-worthy?
Road trips in Maryland are only a few of the bucky-list-worthy adventures. For a true natural wonder, visit the Crystal Grottoes Caverns. Above ground, you can't go wrong with the stunning sights of Swallow Falls State Park. If nature isn't quite your thing, you might love a visit to Elliott City for its historic points of interest and fantastic antique shopping. We can't leave out the sights along the coast. Whether you cruise through the harbor, enjoy a day at the beach, or chow down on crabs at some of the many restaurants right on the water, it's an absolute must for any visitor or resident. Here is an entire list of other Maryland activities to add to your bucket list.
What other adventures in Maryland can I take?
If you're feeling adventurous, Maryland road trips are where it's at. But additionally, scenic trails also make for great adventures! The Appalachian Trail spans 40 miles in Maryland on its long route from Maine to Georgia, and your inner explorer might love the trek – if you're up for it, that is. Explore a swamp without getting your feet wet on the beautiful boardwalk trails of Battle Creek Cyprus Swamp. If you're an avid rock climber, visit Carderock. You don't need to be an expert – there are climbs for all levels of experience available there. Paddleboarding along the coast is an option many people enjoy. For some true adrenaline-pumping thrills, take a ride on a mountain coaster at WISP Resort.
OnlyInYourState may earn compensation through affiliate links in this article.