Paw Paw Tunnel Is A Haunted Tunnel In Maryland That Has A Dark History
Dark and cavernous places tend to ignite tales of mysterious happenings. Some people believe that one particular tunnel in the Old Line State is haunted, due to its troubled past. We'll let you decide for yourself as you read about Paw Paw Tunnel in Maryland, an allegedly haunted tunnel rife with paranormal activity.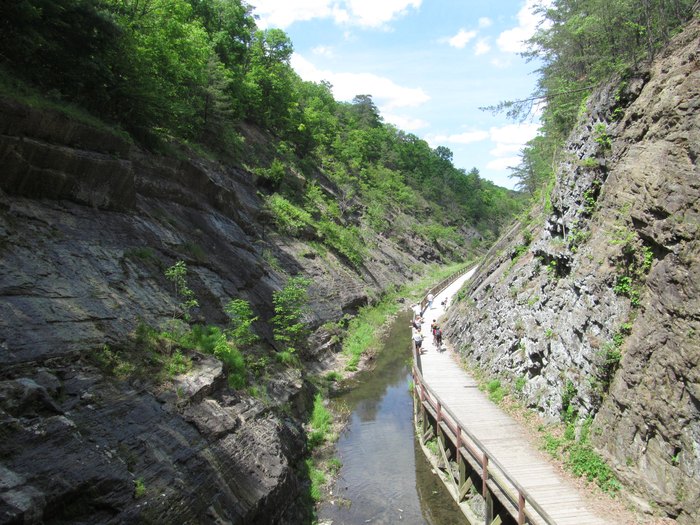 Check out the below video by Youtube user WoofDriver – Dog Trainer & Adventurer as he and a group of explorers walk through Paw Paw Tunnel. They capture some disturbing audio at the end.
Paw Paw Tunnel is located at milepost 155.2 of the C&O Canal. Click here for more information.
Have you walked through the allegedly haunted Paw Paw Tunnel in Maryland? Did you experience the paranormal? Let us know in the comments! If you're a fan of exploring eerie tunnels, be sure to also check out this unique tunnel in Maryland that not many people know exists.
OnlyInYourState may earn compensation through affiliate links in this article.
Address: Paw Paw Tunnel, Chesapeake and Ohio Canal, Towpath, Oldtown, MD 21555, USA
Paw Paw Tunnel in Maryland
June 13, 2020
What is the most haunted place in Maryland?
You'll find countless haunted places in Maryland. If you want to see some of the most terrifying, gas up your car for this haunted road trip that will take you to the scariest places in Maryland. Your journey will begin at Jonathan Hager House in Hagerstown and will take you to such storied haunted locations in Maryland as Spook Hill in Burkittsburg and Jericho Covered Bridge in Kingsville. If you're up for an overnighter, check into your last stop – Point Lookout State Park in Scotland. The campground is said to be haunted by Civil War soldiers.
What haunted hiking trails can I take in Maryland?
Hiking's typically a fun activity, no matter where you explore. However, if you're a fan of the paranormal, you'll definitely want to consider following this haunted hiking trail in Maryland. (You probably won't want to go alone if the paranormal leaves you spooked, on the other hand.) Antietam Battlefield, in fact, is said to be haunted as are its hiking trails. The most haunted of its hiking trails, Sunken Road is commonly referred to as Bloody Lane, where 5,000 men died during the Civil War. You might hear gunshots or see the apparitions of soldiers marching then disappearing, if you explore along Sunken Road.
Are there any haunted hotels in Maryland?
If you prefer staying at a haunted hotel in Maryland rather than a haunted campground, you've got several choices. For your best chance of experiencing the paranormal, check into the most haunted hotel in Maryland. Admiral Fell Inn in Baltimore was once the site of heavy mob activity, with many victims dying in the inn itself. If you visit today, you may just encounter the spirits of those mob victims. Don't be too surprised to wake up in the middle of the night and see an apparition standing at the foot of your bed.