The Best Times And Places To View Fall Foliage In Maryland
Who's ready for fall? Be prepared for the upcoming season by knowing when to see the fall colors in Maryland. Thanks to the Maryland fall colors map from Smoky Mountains, we can know where and when the Maryland fall foliage is at its peak, so nobody has to miss out.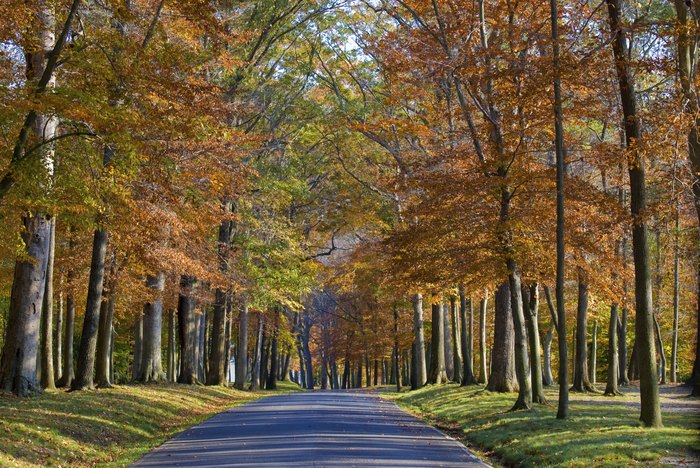 To view the interactive Maryland fall colors map, visit the Smoky Mountains website.
Now that you know when to see the fall colors in Maryland, let us know what you plan to do this autumn! What are your favorite fall activities in Maryland? Pumpkin patches? Hayrides? Haunted houses? Feel free to share below!
OnlyInYourState may earn compensation through affiliate links in this article.
Maryland Fall Colors Map
September 18, 2022
What is there to do in Maryland in the fall?
You'll discover a ton to do in Maryland in the fall. At the top of the list, of course, is admiring the leaves changing colors in Maryland. You can do that when embarking on a leisurely day trip. For a picture-perfect bird's eye view of the Maryland fall foliage, head to Wisp Resort in McHenry and climb aboard a scenic chair lift ride.
If you prefer staying closer to the ground, consider boarding the fall foliage train with Western Maryland Scenic Railroad. Walkersville Southern Railroad, in Walkersville, also features scenic train rides that will allow you to see the leaves changing color in Maryland.
Where can I see the best fall foliage in Maryland?
We all probably have our own idea of the best place to see fall colors in Maryland — whether it's a walk around the neighborhood or a visit to a state park. We're pretty lucky, in fact, because we have an abundance of places to check out the Maryland fall foliage. Stroll around Deep Creek Lake, for example, or spend a day exploring Susquehanna State Park. Other popular leaf-peeping sites in Maryland include Liberty Reservoir, Calvert Cliffs State Park, and Brookside Gardens.
Why should I visit Maryland in the fall?
Peak foliage in Maryland is second to none, so that's a major incentive to visit during the autumn. Plus, you'll have a full menu of activities from which to choose – from escaping corn mazes and picking pumpkins at the pumpkin patch to sipping freshly-pressed apple cider at local farms.
If you like to hike, you're in for a real treat in Maryland, especially in the fall. Looking for a short, easy hike that appeals to all ages and all skill levels? Set off on the Falling Branch Trail at Kilgore Falls, the Grist Mill Trail at Patapsco Valley State Park, or Wolf Rock & Chimney Rock Trail in Catoctin Mountain Park. For a bit of a longer hike, embark on a portion of the C & O Canal, which spans nearly 184 glorious miles from Cumberland, Maryland, to Washington D.C. During the autumn, you can soak up the spectacular colors of fall while enjoying a hike in the crisper, cooler weather.
OnlyInYourState may earn compensation through affiliate links in this article.