Walk Through A Half-Mile Of Holiday Lights At Coppermine Cascade Park In Maryland
There's a holiday light display in town and we can't wait to see it in person. A half-mile of dazzling trees and trails await. And who knows? You might even spot Santa Claus! To learn more about Coppermine Cascade Park, including its holiday light display, take a look below.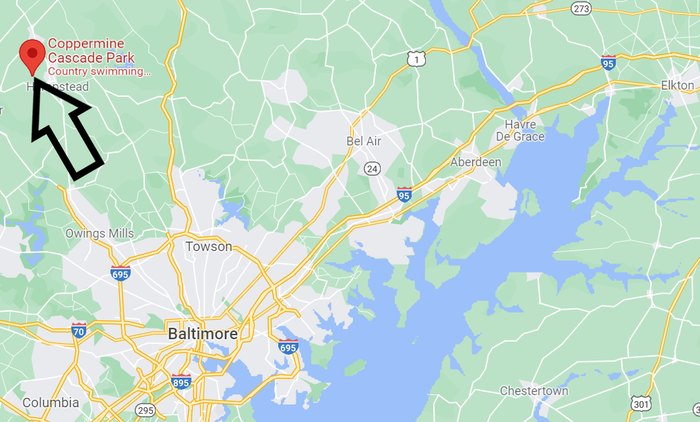 For more information about this upcoming holiday season's Cascade Lights, and to purchase tickets, be sure to visit the Coppermine event website.
Another seasonal must is stocking up on all sorts of pies. Baugher's Fruit Market In Maryland offers fresh homemade pies to die for!
For more Maryland fun, don't forget to sign up for our newsletter. We'll send you a daily email featuring some of the best attractions, accommodations, restaurants, and hikes from all around the Old Line State. There's no better way to start the morning than with some travel inspiration.
OnlyInYourState may earn compensation through affiliate links in this article.
Address: Coppermine Cascade Park, 2844 Snydersburg Rd, Hampstead, MD 21074, USA
Christmas Lights In Maryland
October 18, 2022
Where are three of the best places to see Christmas lights in Maryland?
Like many other states, Maryland is home to many incredible places to see Christmas lights. Listed below are three of the best places to see holiday lights in Maryland, and you'll want to include each of them on your bucket list.
1. Annmarie Garden in Lights
Annmarie Garden in Lights is located in Dowell, Maryland, and features a variety of quirky displays, including pirates, airplanes, dinosaurs, and so much more. People of all ages, especially children, love coming here each year to see the Christmas lights.
2. Lights on the Bay
Located in Annapolis, Maryland at Sandy Point State Park is "Lights on the Bay," a very festive Christmas lights display. However, this isn't your typical Christmas lights display. Instead of just looking at the lights as normal, you'll also be able to wear a pair of 3D glasses to make your experience even better. There's no denying that "Lights on the Bay" is one of Maryland's best Christmas light displays, and after just one visit, you'll agree.
3. Festival of Lights
Maryland's "Festival of Lights," which is located in Upper Marlboro, is home to one of the state's longest drive-thru light displays. You'll get to drive along a 3.5-mile path where you can experience the beautiful light display without ever having to leave the comfort of your car. Make plans to visit the "Festival of Lights" with your family this holiday season. You won't be disappointed!
What's the most magical holiday light display in Maryland?
As already mentioned, there are many Christmas light displays located throughout Maryland. One of the state's most magical light displays is 34th Street in Baltimore. This Christmas light display is in the neighborhood of Hampden and is considered Maryland's very own "Miracle on 34th Street." If you happen to be passing through Baltimore this holiday season, be sure to stop by 34th Street for a truly magical experience.